It was just about a year ago that I was writing about the launch of LibreOffice, and now here we are today, marking the free productivity software suite's first year.

A lot has happened along the way since the fork was first launched out of concern over Oracle's plans for the OpenOffice.org suite, which it inherited when it acquired Sun early last year. Not only is LibreOffice now the office suite of choice on pretty much all the leading Linux distributions, but millions of Windows and Mac users have embraced it as well. In fact, there are now an estimated 25 million people worldwide using the software, according to the Document Foundation, including close to 10 million Windows users.
The software has effectively replaced OpenOffice.org as the leading open source Microsoft Office alternative for personal and enterprise use, in other words, and it shows no sign of slowing down.
I had a chance to speak the other day with Italo Vignoli, one of the founders of the Document Foundation, and Michael Meeks, a Linux desktop architect at SUSE who coordinates LibreOffice development work. One successful year into the project, they're both expecting an equally promising future for the software.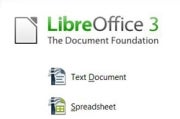 More Than 300 Contributors
With a repository and binaries on day one, "we hit the ground running," Meeks told me. "Given that Oracle packed up and went home with their ball, it was brilliant that LibreOffice was there to cover that gap."
Though it launched with just 20 to 30 contributors, Vignoli noted, LibreOffice today is the result of the combined effort of some 330 people, who have made more than 25,000 commits to the software. Included within that developer community are previous OpenOffice.org contributors, SUSE and community volunteers new to the project, and a sizable portion of participants from Red Hat, among other companies.
Google, meanwhile, is among the numerous big-name sponsors on its advisory board.
Improved Security
Seven stable releases of LibreOffice since its debut, the focus continues to be improving the software incrementally, with an ever-finer focus on the details.
On security, for example, the Document Foundation now operates in proactive mode, Meeks told me, including holding monthly "bug hunting" sessions via IRC; the most recent one was held just yesterday.
The group also just announced a number of key security fixes in LibreOffice 3.4.3, the most recent version of the software.
Coming Soon
What else is coming down the pike for LibreOffice? Meeks and Vignoli had no shortage of features to name:
1. LibreOffice 3.5
In the nearest term, LibreOffice 3.5 is already in the works, and a page on the Document Foundation wiki gives an early glimpse at what it may contain. Due in February, the software hasn't yet reached the feature freeze stage, but included among the features currently listed for it are a template creator in Writer, performance improvements in Calc and–in drawings–support for elliptical arcs in paths.
2. Android Support
"An Android cross-compilation version is coming along," Meeks told me, so it won't be too long before there's a version of LibreOffice designed to work on tablets, in particular.
3. An Online Version
Also on the way is the ability to use LibreOffice from a remote computer via a browser, Meeks said.
4. SharePoint Integration
Finally, looking down the road, the LibreOffice team will add integration with Microsoft SharePoint. "There's clearly a customer need for it," Meeks said.
The Document Foundation aims to achieve 200 million LibreOffice users worldwide before the end of the decade. Based on what I've seen so far, I think there's a good chance it will hit the mark.