New York City is expanding the use of its citywide wireless network to more than a million devices as it tries to cut costs and expand the range of services available to residents, the city's CIO said on Wednesday.
The city is expanding the use of a wireless network called NYCWin covering all five boroughs in New York, and installing more wireless devices in buildings and streets as it tries to contain labor costs and deliver services faster and more effectively, said Carole Post, commissioner of NYC's department of information technology and telecommunications, during a speech at the Interop trade show in New York.
The city currently has 750,000 devices connected to an "enterprise-grade" wireless network. But more city traffic lights are now going wireless, and wireless smart meters are being installed in buildings as part of a public-private partnership. The government is also holding mobile application development competitions, which are making it easier for residents to access a "treasure trove" of information available in databases maintained by the city's IT department, Post said.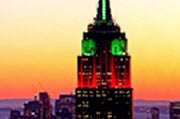 The city has about 950,000 buildings, and it costs a lot to send inspectors to check on water and electricity usage, Post said. The company is in the process of installing smart meters to measure the amount of water and electricity used in those buildings, Post said. The city is about halfway through its smart-meter installation effort, and the wireless network will measure and transmit water and electric use information four times a day. The usage information will be accessible to residents via the Web.
Traffic lights are also being equipped with wireless capabilities, Post said. That allows the traffic command center to wirelessly reprogram traffic lights based on traffic trends. Previously traffic lights needed to be manually programmed.
The wireless network was originally deployed in 2009 and is now accessible to 300,000 city employees and 45 agencies. It has a coverage area of 300 square miles and carries tens of thousands of transactions a day, Post said. The wireless network is also used by emergency responders and the police.
The network has become more important as residents access more information through tablets and smartphones, Post said. The city is making more applications and information available to consumers, but it has yet to achieve its goal of full participation from residents.
"We haven't been as progressive in opening up multiway communication," Post said.
For example, a mobile phone application allows residents to report issues directly to the government, but Post said they would like more participation from residents. For example, residents can take a picture of a pothole and send it with GPS coordinates, based on which the city can take action. The government has also established a weather portal on which residents can post pictures, which could help the government act more quickly to remove snow, for example.
The government has also established a contest for developers to write mobile applications that can effectively pull data from NYC's databases. For example, an application called Roadify provides real-time information on buses and parking. Such contests help create mashups that cut through complex data sets and present information in an easy way on mobile devices. Rewards for such contests are usually a small cash prize or dinner with the mayor, Post said.
The wireless service is supported by 400 sites, with data being pulled from more than 60 data centers, Post said. However, the city is trying to reduce the number of data centers so services can be delivered more effectively while reducing overall maintenance cost.