30 Days With Windows Phone 7: Day 26
One of the great things about smartphones is the wealth of apps. By downloading and installing the apps that fit my needs I customize the capabilities of the device to be uniquely suited for me. For today's 30 Days With Windows Phone 7 post I will take a look at the must-have apps to use with "Mango".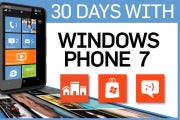 To be honest, "Mango" is its own "must-have" app. Many of the functions I rely on apps to accomplish on my iPhone 4 are just integrated parts of the mobile OS with "Mango". The Office Hub provides the Office Mobile apps and seamless access to SkyDrive, so I don't need the DocsToGo or Box.net apps. The Messaging and Pictures apps weave my social networks in so I can post status updates and share pictures without the Facebook or Twitter apps. The visual search function can scan QR codes so I don't need a separate app for that either.
Microsoft has developed a unique mobile OS that assimilates commonly used features so that they become a seamless part of the "Mango" experience rather than requiring third-party apps. But, that doesn't mean that there isn't still a need for apps–so here's my list of must-have "Mango" apps.
Facebook: Sure, I can post status updates, share pictures, and check in at locations around town just using the Facebook functionality already integrated into "Mango". I can also follow the recent updates of my friends in my social network. But, there are still some functions that aren't available, and sometimes I want to just work in Facebook directly.
Netflix: Recent prices changes and seismic shifts in the business model of Netflix notwithstanding, it is still one of the best deals available when it comes to streaming video content to your smartphone. As a paying customer of Netflix, it would be silly not to have this app.
Adobe Reader: I deal mostly in Microsoft Office file formats, but I can't ignore the popularity of PDF files. The first time I tapped on a PDF file that was stored on my SkyDrive "Mango" let me know that I needed to have the Adobe Reader app and let me install it with a tap or two.
Send to WP7: This handy app works in conjunction with an extension, plugin, or accelerator (depending on your browser of choice) to enable me to send links, and text from my browser straight to my Windows Phone 7.5 "Mango" device. In terms of functionality, it reminds me of the Instapaper app on my iPhone.
WinMilk: I appreciate having access to my Outlook calendar, and my various notes in OneNote from my "Mango" smartphone, but I also need to be able to keep up with my to-do lists from RememberTheMilk.com. RememberTheMilk has an app for iPhone and iPad, but doesn't offer one for Windows Phone 7. This third-party app, however, ties in to my RememberTheMilk account and syncs my tasks.
Like I said, many of the things I would generally consider to be must-have apps are simply built in to the "Mango" OS. But, as capable as it is it can't do everything, and there is a reason that there are more than 30,000 apps available for Windows Phone 7 mobile devices.
Read the last "30 Days" series: 30 Days With Google+
Day 25: Conserving Battery Power with "Mango"