If your Facebook feed has been flooded with mentions of the Get Friend Map, an app that visualizes the locations of your Facebook friends on a world map, you're not alone. As of this writing, the Get Friend Map–which sounds like you'll be buying Facebook friends–has 580,767 monthly active users and over 60,000 "likes" on its page. So what is the Get Friend Map? And how useful (or harmful) is it?
What is it?
The app's page describes the Get Friend Map as: "View your friends connection around the world on a beautiful map." (Note: the app creator's English is quite broken, so to save time, I'll just leave out all the sic notations.)
In order to accomplish this, the Get Friend Map collects location data from your friends' profiles and uses a representative glowing dot on a very dark world map to show the far-flung nature of your social network.
How Accurate is it?
It's as accurate as your Facebook friends are honest. If they aren't lying about their location–such as my friend who claims to reside in French Guiana but who actually lives in a weird-smelling studio apartment in Boston–the dots on the Get Friend Map appear to be accurate.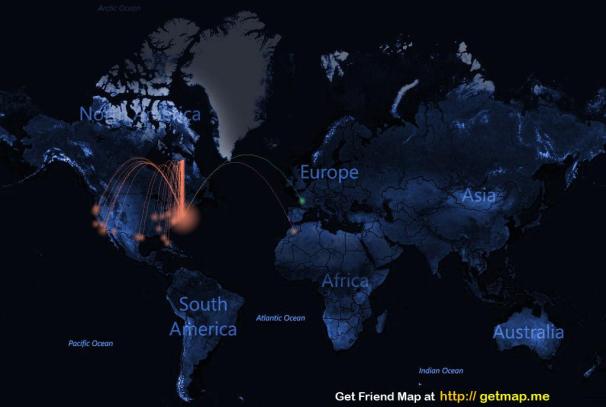 But given the inability to zoom in to see individual cities or states (or have any interactive features at all), your resulting photo is likely to be a messy blotch of your close-by friends, which explains why, on mine, New England looks like an irradiated wasteland on a nuclear heat map.
How Safe or Spammy is it?
In order to install the Get Friend Map, you need to grant it a bunch of permissions, including your name, gender, networks, user ID, and list of friends. You also have to allow it to post status messages, notes, photos, and videos on your behalf.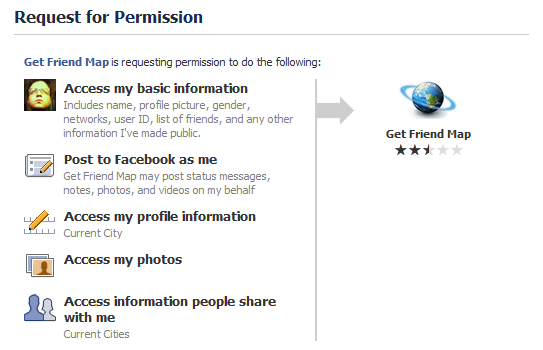 That may sound overreaching and malicious, but the Get Friend Map only collects information that you have made public–and all of those settings can be easily modified.
Brad Phaisan, the app's creator, assures users that the Get Friend Map won't go crazy with your information. One user asked why the app needed photo permissions, and Phaisan replied that the Get Friend Map "needs the first permission to post the result image on user's wall on user behalf," but that "since some user may not actually hit a share button in our application … application won't post anything and hence don't need the first permission at all." Basically, it's a Facebook thing; common to many of the site's add-ons.
Is it at all useful?
No–but that won't stop your Facebook friends from using it.