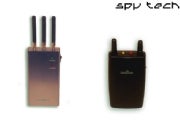 The U.S. Federal Communications Commission has issued warnings to 20 online retailers selling illegal mobile phone jammers, GPS jammers, Wi-Fi jammers and other signal jamming devices, the agency said Wednesday.
The sale and use of devices that jam the signals of authorized radio communications are illegal in the U.S., the FCC said in its enforcement action. The agency will "vigorously" prosecute violations going forward, it said in a press release.
"Our actions should send a strong message to retailers of signal jamming devices that we will not tolerate continued violations of federal law," Michele Ellison, chief of the FCC's enforcement bureau, said in a statement. "Jamming devices pose significant risks to public safety and can have unintended and sometimes dangerous consequences for consumers and first responders."
Jammers, sometimes used in classrooms, theaters and churches, are prohibited because they can prevent individuals from contacting police and fire departments or family members during an emergency, the FCC said. "Use of jamming devices can place you or other people in danger," the agency said.
The 20 retailers were marketing more than 200 jamming devices, the FCC said. Among the jammers being sold were GPS blockers for vehicles, high-tech signal blockers with remote control capabilities and jammers disguised as paintings and cigarette packs, the agency said.
The FCC ordered each online retailer to immediately stop marketing signal-jamming devices in the U.S. If a retailer gets a second citation from the FCC, it could face fines ranging from US$16,000 to $112,500, with a separate penalty possible for each device sold or each day a device is marketed, the agency said. Additional violations could result in the seizure of equipment and prison time, the FCC said.
Grant Gross covers technology and telecom policy in the U.S. government for The IDG News Service. Follow Grant on Twitter at GrantGross. Grant's e-mail address is grant_gross@idg.com.