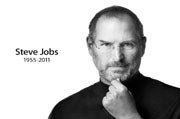 As news of the death of Steve Jobs spread around the Internet, the tributes came pouring in Wednesday, crediting Apple's co-founder and chairman with–more than once–changing computing as we know it.
Apple's Web page was black and white on Wednesday afternoon, displaying only a photograph of Jobs in his trademark black turtleneck. "Apple has lost a visionary and a creative genius, and the world has lost an amazing human being. Those of us who have been fortunate enough to know and work with Steve have lost a dear friend," the company said on its website. Apple invites fans to send in condolences to rememberingsteve@apple.com.
President Obama, Gates, Brin, Others Pay Tribute
Although Jobs' death was not unexpected, it prompted a torrent of condolences, remembrances, and sad musings on the Internet. On Twitter, the hashtag "RIP Steve Jobs" was instantaneously a trending topic.
"Steve was among the greatest of American innovators — brave enough to think differently, bold enough to believe he could change the world, and talented enough to do it," U.S. President Barack Obama said in a statement late Wednesday. "He transformed our lives, redefined entire industries, and achieved one of the rarest feats in human history: he changed the way each of us sees the world." Physical tributes began to appear on the street outside Jobs's Palo Alto home Wednesday evening. Police blocked off the road, but bunches of flowers had already been left to mark his passing.
Former Microsoft CEO Bill Gates said he would miss his onetime rival. "For those of us lucky enough to get to work with Steve, it's been an insanely great honor," Gates said on Twitter. "I will miss Steve immensely."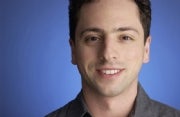 Google co-founder Sergey Brin credited Jobs as a longtime inspiration. "From the earliest days of Google, whenever Larry and I sought inspiration for vision and leadership, we needed to look no farther than Cupertino," he said in an Internet post."Steve, your passion for excellence is felt by anyone who has ever touched an Apple product (including the macbook I am writing this on right now). And I have witnessed it in person the few times we have met."
Jobs, also the founder of Pixar Animation Studios, was famously one of the few executives who could bridge the digital divide between Hollywood and Silicon Valley, and in death, he received tributes from both. "Two And A Half Men" star Ashton Kutcher paraphrased a famous Steve Jobs quote, saying on Twitter, "Design is not just what it looks like and feels like. Design is how it works. – Steve Jobs RIP."
The politically connected Jobs was also remembered by his friend, California Governor Jerry Brown, who said, "Steve Jobs was a great California innovator who demonstrated what a totally independent and creative mind can accomplish. Few people have made such a powerful and elegant imprint on our lives."
Former Sun Microsystems CEO Scott McNealy also praised Jobs.
"I think he's the greatest entrepreneur we've ever known or seen," McNealy said during an event on Wednesday evening. "Look at what he did with Apple, what he did with Pixar."
Jobs died peacefully on Wednesday after a long bout with pancreatic cancer. He was surrounded by his family.
"Apple has lost a visionary and creative genius, and the world has lost an amazing human being," said Apple CEO Tim Cook in an email sent to all Apple employees Wednesday. "Those of us who have been fortunate enough to know and work with Steve have lost a dear friend and an inspiring mentor." Apple said on its site that it is planning a celebration of Jobs' life.
(Additional reporting by James Niccolai in San Francisco.)
Robert McMillan covers computer security and general technology breaking news for The IDG News Service. Follow Robert on Twitter at @bobmcmillan. Robert's e-mail address is robert_mcmillan@idg.com