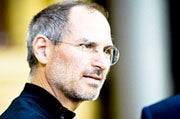 The death of Apple Chairman and co-founder Steve Jobs brought about a heartfelt outpouring of grief from people around the world.
A crowd gathered outside Apple's Cupertino, California headquarters Wednesday evening, according to tech blogger Robert Scoble. "One lady told me she just wanted to pay her respects," Scoble notes. Apple posted a web page that told mourners they could email their thoughts and condolences to rememberingsteve@apple.com.
Within hours of Jobs's death, Facebook users created over thirty "RIP Steve Jobs" Facebook pages memorializing the tech visionary's life. And on Twitter, "RIP Steve Jobs" is the top trending topic worldwide as of this writing.
Gatherings
IDG News Service reporter Martyn Williams said via Twitter Wednesday night that, "there is a small but growing pile of flowers in front of Steve Jobs' house in Palo Alto," and that police closed the street to automobile traffic.
Meanwhile, Apple fans flocked to Apple retail stores across the country to pay their respects. PCWorld Associate Editor Ginny Mies visited the San Francisco store Wednesday evening and says that many people are gathered outside the store, and that Apple employees are holding iPads displaying quotes from Steve Jobs. Reports on Twitter indicate similar gatherings at other Apple Stores, with visitors leaving notes and flowers.
Zohra Ashpari and Ginny Mies contributed to this report.