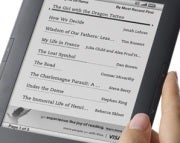 Kindle buyers no longer have to decide right away whether they want the ad-free or ad-subsidized version of the e-reader, because Amazon is including an option to remove Kindle ads later.
Removing ads from the fourth-generation Kindle with Special Offers costs $30–the same premium that users would pay up-front for an ad-free model. The latest Kindle, which removes the keyboard of previous generations in favor of a directional pad, launched last week for $79 with ads, or $109 without them.
According to The Digital Reader, ads may only be removed on the latest keyboard-free Kindle, but it'll presumably be available on the Kindle Touch as well when it launches in November. To remove ads, head to Amazon's account page, click "Manage Your Kindle," then click "Manage Your Devices" on the left sidebar. You'll see an option to unsubscribe from Special Offers.
The ad removal option is a smart move by Amazon, because it makes the ad-subsidized version a no-brainer for more customers. In turn, Amazon can use the extra eyeballs to grow its advertising platform and its Groupon-like local deal service. And if the user ever decides to remove Special Offers, Amazon will have sold some ads and made back the money that subsidized the device.
Special Offers only appear on the Kindle's lock screen and the bottom of the home screen. I'm still hoping Amazon will someday use ads to subsidize e-books, but it's probably not going to happen.