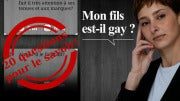 Google removed a controversial app from its Android Marketplace called "Is My Son Gay?" amid negative press and a petition of 37,692 signatures from the LGBT group AllOut.org.
The Android app was supposedly designed to "help" mothers determine whether or not their son is gay based on 20 homophobic questions that, according to the app's creator, Christophe de Baran, were meant to be satirical. The problem was that nobody laughed.
A Google spokesperson confirmed the removal of "Is My Son Gay?" with CNET, stating, "We remove apps that violate our policies." The questions, all 20 of which can be found on AllOut.org, relied on blatant gay stereotypes such as "Is he a fan of divas (Madonna, Britney Spears)?" and "Does he take a long time to do his hair?", and therefore could be seen as abusing the Android Market Developer Program's Policy on hate speech.
Is It Hate or Satire?
It goes without saying that smartphone apps can't determine one's sexual orientation, just as they can't eradicate pimples. Therefore, to most people, "Is My Son Gay?" was nothing more than a hateful lashing from a group of immature developers.
But did de Baran and his developers intend "Is My Son Gay?" to be plainly satirical? This question arose when the group wrote to the Huffington Post:
"This app was conceived with a playful approach. It is not based at all on scientific research… Through humor, 'Is My Son Gay?' and the forthcoming novel have the sole objective of toning down/improving the situation and helping mothers to accept their sons' homosexuality."
Note: If de Baran hoped that the app would promote the upcoming novel, he guessed right.
It's also worth mentioning that de Baran himself is openly gay, according to Queerty and Instinct Magazine, and has previously published a gay erotica book.
Even if the app was meant to use shock value as a conversation starter, "Is My Son Gay?" is not protected free speech; both because the developers are not American citizens and because the First Amendment does not apply to violations of a corporation's terms of service. Therefore, Google had a legal right to remove it from the Android Marketplace.