30 Days With Windows Phone 7: Day 28
We've entered the home stretch for the 30 Days With Windows Phone 7 series. As I used Windows Phone 7–both "NoDo" and "Mango"–I was shocked by just how impressive the Microsoft mobile OS is.
But, my experience wasn't all wine and roses. Here are the top five issues or complaints I have about Windows Phone 7: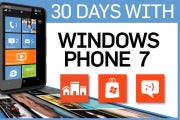 1. Sync with Outlook
My life is in Outlook. It is my email client, my calendar, my contact database, and sometimes my to-do list. Microsoft should appreciate and reward the fact that I am an Outlook loyalist, but instead Windows Phone 7 is incapable of directly syncing my information from Outlook on my PC. My Apple iPhone can sync my Microsoft Outlook information just fine, so why can't Microsoft?
I do appreciate having the information in the cloud, and I respect Microsoft's decision to push in that direction. When I switched from the HTC HD7S to the Samsung Focus it was nice that I could simply log in with my Windows Live ID and all of that information was available. But, Microsoft needs to simplify and automate the process of getting data from Outlook to the cloud. There should be a tool that runs automatically when you set up a "Mango" smartphone so the burden isn't on the user to jump through hoops just to get their information onto the device.
2. Contact Chaos
I went crazy adding accounts to my "Mango" device so I could have the most integrated People Hub possible. The problem is that it pulls contact info into the People Hub from each of the different sources, and I end up with multiple entries for many people–one from Facebook, one from LinkedIn, one from my Outlook data synced through my Windows Live account, etc. I have one person who shows up in my list of contacts as "Greg Williams", "Greg & Sandy Williams", and "Greg and Sandy Williams".
I can go into the Settings and configure "Mango" to simply not include contact data from some sources to avoid the chaos and confusion, but I'd rather have it all merged to make sure I have all of the information available in one place.
While viewing a contact, I can click the chain link icon at the bottom to link it with other entries and consolidate. But, with hundreds of contacts it is a tedious process. It would be nice if Microsoft did a better job of automatically detecting duplicate contacts and merging the data.
3. Capturing Screenshots
I like the feature on my iPhone and iPad that lets me snap a picture of whatever is displayed on the device by simply holding down the power button and home button simultaneously. I recognize that this is not necessarily a huge issue for many users, but for me it is an issue almost daily. I am sure there are workarounds or apps that can get the job done, but "Mango" should have a native screen capture function.
4. VPN (Virtual Private Networking)
"Mango" has seamless connectivity with SkyDrive and SharePoint Server team sites, but if I want to connect securely with other network resources I am out of luck. Obviously I don't use my smartphone as a productivity platform for writing and posting articles, but it's nice to be able to make minor tweaks or corrections on the go. Unfortunately, Windows Phone 7.5 "Mango" doesn't provide me any way to connect with the PCWorld VPN.
5. Microsoft-Centric
The seamless integration of the Office Hub with the files stored in SkyDrive is nice, but I don't use SkyDrive as my primary online data storage. I use Box.net. I understand that Microsoft would prefer everyone use its tools and services, but my feeling is that Microsoft should still provide the APIs for other services to tie into the Windows Phone mobile OS.
Holding customers hostage isn't the way to go. Let the customers have some choice, then make sure your product or service is worthy of being chosen. It would be awesome if I could connect the Office Hub with my Box.net account.
Read the last "30 Days" series: 30 Days With Google+