At a Glance
Expert's Rating
Pros
Download process is seamless
Attractive interface
Cons
Downloaded an out-of-date driver
Our Verdict
This excellent utility makes finding and fixing outdated drivers a snap.
Raxco Software's PerfectUpdater isn't perfect, but this application ($30, free demo) is one of the best solutions I've found for locating and fix out-of-date drivers on a Windows PC.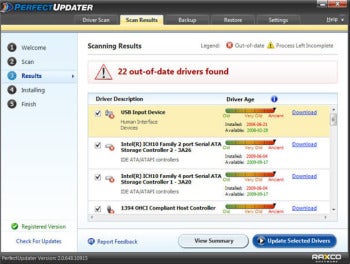 As soon as you launch PerfectUpdater, it begins to scan your PC for out-of-date drivers. I wish the scan waited until you started it manually, as competing product Device Doctor's does, but this is a minor quibble–as you can pause the scan and you can start it manually if you wish to run it again once you have the application open. And, from this point on, Perfect Updater easily outperforms DeviceDoctor.com's free Device Doctor solution and almost performs as well as ReviverSoft's $30 Driver Reviver, a similar application that's a worthy rival.
Once PerfectUpdater has located your out-of-date drivers, it presents them to you in a neatly organized list that makes it easy to see just how old they are. Driver Reviver offers a very similar view, but Device Doctor offers no such details at all.
If you're using the free trial of PerfectUpdater, your experience ends here. But if you are using the paid version, you can move on to the updating process: You can select which drivers you'd like to update, and once it begins, the process is seamless. PerfectUpdater handles it from within the application, without bouncing you to a Web site, as Device Doctor does. And it even creates a system restore point for you automatically–a useful thing that's all too easy to neglect to do manually.
I had two minor issues with PerfectUpdater: first, it mis-identified one current drivers as out of date, and then it attempted to install a driver for my HP printer that my Windows 7 PC wouldn't support. The company says this is likely an isolated problem with its driver analysis, and is looking into it. It correctly identified 21 out-of-date drivers, though.
These issues kept PerfectUpdater from performing perfectly, but aside from that, it was pretty darn close.
–Liane Cassavoy