Driver Reviver's name may be something of a tongue-twister, but using this $30 application is far easier than pronouncing it. This excellent utility offers a simple way to identify and update out-of-date drivers.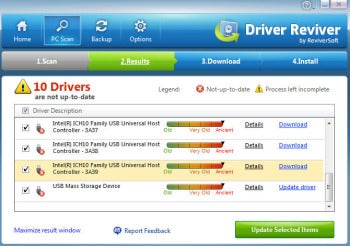 Like its rival Perfect Updater, Driver Reviver ($30, free demo) begins to scan your PC for out-of-date drivers as soon as you launch the app. I prefer the approach taken by another rival, DeviceDoctor.com's Device Doctor, which waits to begin scanning until you've manually started the process. But you can pause the scan, and in all other areas, both Raxco Software's PerfectUpdater and ReviverSoft's Driver Reviver drastically outperform Device Doctor.
In fact, Driver Reviver is very similar to PerfectUpdater. Both are $30 apps that quickly scan your PC, and display the results in easy-to-view lists that make it easy to gauge the age of your drivers. And like PerfectUpdater, Driver Reviver offers a free scan of your PC: Once you want to go ahead an update your drivers, you have to spring for the full version of the apps.
Like PerfectUpdater, Driver Reviver handles the updating process seamlessly, from within the application, and doesn't force you to do it through an external Web site, like Device Doctor does.
Driver Reviver does not create a system restore point for you, which PerfectUpdater does; nor does it suggest that you do so manually, something Device Doctor advises. This is the only misstep that Driver Reviver makes during the update process, though: It correctly identified 21 outdated drivers, and updated all of them without a problem. Rival PerfectUpdater, meanwhile, incorrectly identified one current driver and suggested a driver that was incompatible with my Windows 7 PC.
I do wish that Driver Reviver created a System Restore Point for you–or at least reminded you to do so. But other than that slight stumble, this app excels at reviving those out-of-date drivers.