Google and Samsung mysteriously pulled the plug Friday on the expected release of a new version of the Android operating system code named Ice Cream Sandwich (ICS).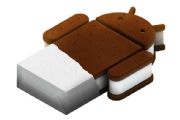 The new release of Android is highly anticipated because it is expected to tie the smartphone version of the operating system, known as Gingerbread, and the tablet flavor, called Honeycomb.
An event billed as "Samsung Mobile Unpacked" was scheduled by Google and Samsung for next Tuesday at the CTIA show in San Diego where ICS and a new Samsung phone running it were expected to be unveiled. However, the companies have canceled the event.
"Samsung and Google decide to postpone the new product announcement at CTIA Fall," the companies said in a statement. "We agree that it is just not the right time to announce a new product. New date and venue will be shortly announced."
According to a Google spokesperson, the event was cancelled out of respect for Steve Jobs' passing.
Even with the postponement, the companies still have plenty of time to fulfill Google Executive Chairman Eric Schmidt's promise that ICS will be released in the October/November time frame.

The companies' announcement coincides with release of a video purportedly showing the new Samsung ICS phone in action. The phone, referred to by some Android watchers as the Nexus Prime or Galaxy Nexus, doesn't have any physical or capacitive buttons. Instead, they've been replaced by on-screen icons. In addition, the appearance of widgets on the device is similar to their appearance in Honeycomb.
Although Google has kept its cards close to its vest about ICS, a number of things have been reported about it.
Widgets will be richer and resizable, as they are in the tablet version of Android.
More multitasking will be added to the system and the OS will be open source.
The system will be tailored to take advantage of devices that use the Texas Instrument's OMAP chip.
As with any Android upgrade, what Android devices will be eligible for the new system will remain with the manufacturers, but two good bets for the upgraded OS are the Samsung Nexus S and the Motorola Xoom.
Follow freelance technology writer John P. Mello Jr. and Today@PCWorld on Twitter.