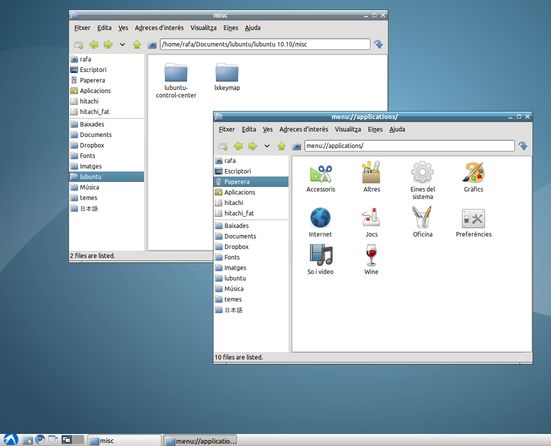 Raise your hand if this sounds familiar: You bought a netbook a couple years back, thinking it would be your go-to travel PC, but quickly became dissatisfied with its sluggish performance–and stuck it in a closet.
Hey, that's a perfectly good PC you've got in there. It just needs a better operating system, one that fares better with less horsepower. Last year I wrote about Joli OS (formerly known as Jolicloud), which accomplished that very goal–but with a somewhat unfamiliar-looking interface that didn't appeal to everyone.
Another worthwhile option: Lubuntu 11,04, a fast, lightweight Linux distribution that promises to put the spurs to even the pokiest of PCs. Short for "light Ubuntu," it employs the Lightweight X11 Desktop Environment, or LXDE, as its user interface. It looks and operates in a way that should seem familiar to Windows users, meaning your learning curve should be slight.
Like all Linux "distros," Lubuntu is free. Like many distros, it's not exactly user-friendly. Indeed, the product page might best be described as confusing and unhelpful. Allow me to get you started: Most people will want to download the "desktop-i386" ISO version available from the download page.
Because netbooks don't have optical drives, there's little point in burning that ISO file to a CD (a common option for installing Linux). Instead, you'll want to install Lubuntu from a flash drive. (The instructions presented there are for the regular version of Ubuntu, but they're still applicable.)
Like I said, nothing about this is terribly user-friendly. If you're not the tech-savvy sort, ask your favorite geeky friend (or neighborhood teenager) for help. Also, there's a Lubuntu overview at Lifehacker that's worth checking out.
Contributing Editor Rick Broida writes about business and consumer technology. Ask for help with your PC hassles at hasslefree@pcworld.com, or try the treasure trove of helpful folks in the PC World Community Forums. Sign up to have the Hassle-Free PC newsletter e-mailed to you each week.