At a Glance
Expert's Rating
Pros
Nice keyboard
Pocket-friendly
Cons
Minuscule internal storage
Extremely low-resolution display
Our Verdict
A nice match for people who want a budget smartphone with a physical keyboard, but the Milano won't cut it for smartphone veterans.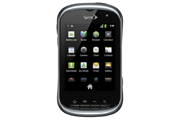 At first glance, the Kyocera Milano looks to be a good match for users who want a smartphone but are on a constrained budget: For $30 (with a new two-year contract with Sprint as of October 7, 2011), you get an Android phone with a slide-out keyboard running Gingerbread (Android 2.3.4). But you also get a below-average display and reception problems.
Design
The Milano has an elongated oval shape similar to that of the Pepperidge Farm cookies that share its name (minus the delicious cookie part). At 4.1 inches by 2.4 inches by 0.7 inch, the Milano feels tiny in comparison to many other Android phones. The full QWERTY keyboard on the phone permitted rapid typing and it was comfortable to use, but the slide-out keyboard mechanism seemed somewhat flimsy–and significantly less solid than the ones we've seen recently on the Motorola Droid 3 and on both the 3G and 4G versions of HTC's MyTouch Slide.
The 3-inch display has a considerable air gap between the screen and the glass, which made images and text difficult to see outside. As its substandard resolution of 320 by 240 pixels might lead you to expect, the display was anything but sharp. Images and text looked grainy and color was mediocre, though the screen was responsive to touch input. One other disadvantage of the small screen was that the onscreen keyboard was difficult to type on; I recommend that you stick to using the physical keyboard.
Performance
The Milano's specs don't inspire awe. The phone comes with an 800MHz processor, 400MB of RAM, 150MB of onboard storage, and a preinstalled 2GB microSD card. It runs a slightly modified version of Android 2.3.4 (Gingerbread).
As one of Sprint's Eco Phones (the first being the Samsung Replenish), the Milano boasts several ecologically friendly features. Bundled with the phone is a free mailer that you can use to recycle your old cell phone batteries properly. The Milano also offers an Eco Mode, where you can adjust various phone settings (such as screen timeout and display brightness) to conserve power. How changing your phone's wallpaper will lessen your impact on the environment, I'll never know, but the option is there for you in case you want it.
Normal phone operations such as navigating menus and browsing the Web went smoothly, but I had some trouble installing apps on the Milano. The phone would begin installing an application but then fail after a few minutes. This phenomenon usually occurs with phones that have a restrictively small amount of internal storage.
The phone occasionally lost its data connection, too. Using 3G, I could stream Netflix movies without a hitch, but at times I couldn't download apps from the Android Market. In addition, I frequently lost bars in areas where I had had full coverage just seconds before.
Call quality in San Francisco was decent, though volume through the earpiece wasn't as strong as I would have liked, even at the maximum setting. After a day of moderate to heavy use, with GPS and Bluetooth switched on (and including my streaming of an entire episode of the show Wings), I only managed to drain the battery to about the halfway mark.
Gingerbread and Software
I was pleasantly surprised to see the Milano running Android Gingerbread. Most budget phones use the relatively dated Android 2.2.
Like some of Sprint's other Android phones, the Milano includes Sprint ID, which lets you quickly apply themes to your Android phone. Adopting a social ID would simplify covering your homescreen with social media apps (like Twitter and Facebook), while a choosing a business ID would make selecting useful business apps easier. You can have multiple IDs and can flip flop between them at any time. Sprint ID is likely to be useful for people who are new to smartphones, but more-experienced users will probably never touch it.
Games, Video, and Audio
The Milano is not a good phone for watching videos on. Though I managed to stream an entire episode of Wings from Netflix, the quality was nearly unwatchable, due in large part to the low-resolution screen. Audio from the single speaker located on the back of the phone sounded as if it were coming from a tin can, and it also had a slight hiss. Once I finally got Angry Birds installed on the Milano, the smaller screen made playing the game difficult. I can't imagine trying to play a game requiring two fingers, like Gun Bros., on the Milano because your hands would obstruct everything.
Camera
In light of its 3.2-megapixel camera, I didn't have high hopes of capturing breathtaking photos with this phone. I was pleasantly surprised, however, when it yielded some reasonably good photos. The camera did have occasional focusing issues, so you should probably use it mainly for portraits.
But don't expect to capture acceptable home videos with the Milano. Video clips came out looking extremely jerky and blurry, but the camera did pick up voices and sounds quite well.
Bottom Line
Even at $30, the Milano is a tough sell. The price may attract buyers who are new to smartphones, and the handset's call quality and battery life are pretty solid. But the tiny amount of internal storage and the truly terrible display will turn off a lot of people who want to use their phone as a media device. If you're looking for a budget phone with a slide-out keyboard and nothing more, the Milano will satisfy your needs nicely. If a keyboard isn't a big factor in your smartphone purchasing decisions, I recommend spending $10 to $20 more and picking up a Nexus S 4G instead.