All the major Web-based email services have junk mail folders and spam filters that strain out obvious offenders. Categorizing messages and filtering out those you don't want may help, but limits control. It would be nice just to tell your email program which messages you want to receive and when–and dump the rest. Windows Live Hotmail may be coming a step closer to that, with changes announced this week.
On the Inside Windows Live blog, Hotmail group program manager Dick Craddock said only 14 percent of the messages we receive are true person-to-person messages. The rest, which accounts for 75 percent of the mail we receive, is "graymail"—messages that you may or may not want. As part of the major Hotmail overhaul coming soon, users will be able to decide which graymail they want and which can be weeded out, making managing email flow easier.
Chances are, as a small business owner, you both get and send a lot of email. Messages flood your inbox from vendors advertising services you use. Even though these aren't technically spam–because once upon a time you gave permission to join their mailing lists–you didn't expect several messages a week.
If you're sending messages to your customers about upcoming events or product news, you understand the other side of the coin too. You want people coming to your site and buying your products, but you don't want to alienate them by showing up in their inboxes too often.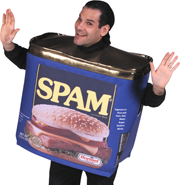 Microsoft says the new Windows Live Hotmail tools will enable you to unsubscribe easily and clear out clutter with the new Sweep feature. On some newsletters, for example, it's unclear how to unsubscribe, and you may just press Delete out of convenience–which means you'll get the newsletter each month. With the coming changes in Hotmail, all you'll need to do is click the Unsubscribe button for Hotmail to notify the newsletter sender, clean up your email messages, and remove old newsletters from your inbox. It will then automatically send any further newsletters from that sender to your Junk Mail folder.
Hotmail will also get a new Schedule Cleanup tool to automate when messages will be removed. You might, for example, choose to keep only the latest newsletter you've received, or to delete messages when they're a week old (such as for sales or offers that expire). You can also have Hotmail move messages from a particular sender to a folder after a specific amount of time.
In addition, Hotmail has changed so that items you flag get pinned to the top of your inbox and stay there. Other improvements will enable you to create custom categories for messages you want to keep, and use advanced folder management tools to organize your messages en masse, such as by moving all messages from a sender into the new folder.