Samsung's Stratosphere is reportedly expected to launch Thursday as the first Verizon 4G LTE smartphone with a QWERTY slider keyboard.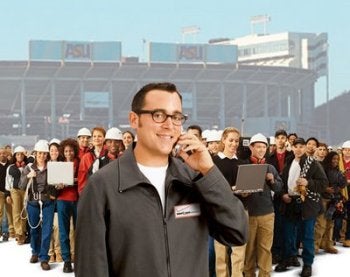 That's according to Droid-Life, which has posted a leaked user manual and promotional materials on its site.
The mid-tier phone runs on Android 2.3 Gingerbread and features a 4-inch Super AMOLED display, a 1GHz processor, 4GB of onboard memory with 4GB installed on a microSD card, 512MB of RAM, a 5-megapixel rear camera with flash, a 1.3-megapixel front-facing camera and a five-row slide-out QWERTY keyboard. The phone also has a voice dialer, a speech-to-text feature and can act as a mobile hotspot for up to eight devices on 4G, and up to five devices on 3G.
The smartphone may debut at the CTIA wireless trade show, which runs Tuesday through Thursday in San Diego. If you're interested in what other phones might make appearances there, check out PCWorld's predictions.
Pricing for the Stratosphere is expected to be around $150 with a two-year contract.