Among the features of the new iPhone 4S, which should start reaching consumers' hands this week, is a baked-in personal assistant app called Siri. The software uses speech recognition, artificial intelligence, and tight integration to the phone's built-in apps to create a "personal assistant" to perform a multitude of tasks for you. As powerful as Siri is, however, a speech recognition product made by a company called Sensory, Inc. may outshine Apple's offering in the long run.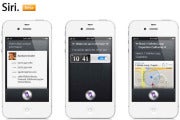 While the name of Sensory's product — Trulyhandsfree Voice Control 2.0 — doesn't slip off the tongue as smoothly as Siri, it does something that all speech recognition programs have had a devil of a time doing: recognizing speech in hostile ambient noise environments.
"It's amazing," Michael Morgan, a mobile devices analyst with ABI Research in New York City, tells PC World. "They've used some kind of black magic so you can have your phone in your pocket in a noisy environment and issue voice commands."
Better yet, the software is "always on." You don't have to punch any buttons to activate it, as you do with Siri.
Ordinarily, an "always on" speech recognition application is asking for trouble. That's because the software can't determine when you're speaking to it or talking to someone else. Sensory's speaker-independent software appears to address that problem with highly accurate recognition and the capability to recognize commands, even when they're embedded in sentences, surrounded by ambient sound, and spoken as far as 20 feet from a phone.
"You can leave it on and talk for two hours, and it will not misfire, and it will pick up the second you say a command," Morgan says. "It does an excellent job."
Of course, you can do many more things with Siri than you can do with Sensory's software, which is currently made for Android phones. For example, before you walk out the door for work in the morning, you can ask Siri if you'll need a raincoat. It will do all the work of checking the weather forecast for your geographical location and returning with an answer based on that forecast.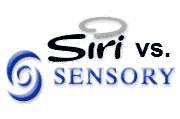 But if you have to repeat a question five times before you can get a response from an app or instead of answering your raincoat question, it displays a calendar item with the word "rain check" in it, then that app is likely to lose its luster pretty fast.
That could be the case with Siri, according to Morgan. "Apple's gateway into the iPhone's voice commands doesn't work that well," he asserts.
"Apple did a great job of making sure that the speech recognition is contextually aware," he adds. "At this point though, as usual, it's going to be speech recognition making promises that it can't deliver on at the moment."
Sensory, located in Santa Clara, California, has been around since 1994, and its speech recognition technology has been used in products produced by Plantronics, Motorola, Hasbro, Mattel, Kensington, and Samsung, as well as others.
Follow freelance technology writer John P. Mello Jr. and Today@PCWorld on Twitter.