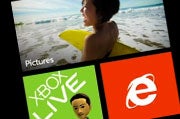 Brace yourself for the upcoming Windows Phone 7 onslaught. In the coming months Microsoft will make a big holiday push that will extend into early 2012 in an attempt to win over converts to its new mobile operating system. Andrew Lees, president of Microsoft's Windows Phone Division, has been busy recently spreading the gospel of Phone 7 and dishing on Microsoft's mobile plans, according to a number of reports.
In several recent interviews the Phone 7 chief has addressed several shortcomings the company's mobile platform has been criticized for including a lack of dual-core handsets and LTE connectivity – two features Android handset makers jumped on many months ago. Apple's new iPhone 4S also has a dual-core processor.
Lees' publicity push for Phone 7 follows Microsoft's recent roll out of Windows Phone 7.5 Mango in late September. The software update featured over 500 new features such as multitasking, an improved Web browser and a Wi-Fi hotspot mode. Critics largely welcomed the upgrade since it gives Microsoft's mobile platform some degree of parity with its main competitors Apple's iOS-powered iPhone and Google's Android mobile OS.
Phone 7 Home For The Holidays
More Windows Phone 7 devices are apparently coming out in time for the holiday season including budget-priced $100 handsets, and higher-priced devices featuring big screens and dual-LED flash, according to the Seattle Times. Lees didn't say which companies were launching the new devices or when these announcements would start. PCWorld will have the latest news from this week's CTIA Enterprise & Applications event in San Diego.
At least one Mango deice is expected to be from Nokia, which is expected to release its first Phone 7 device before the end of the year. Nokia announced in February that it would concentrate on producing Microsoft phones.
LTE and Dual Core
Lees also said the first LTE Phone 7 device will become available in 2012, but didn't provide other specifics. The Phone 7 chief told AllThingsD that handsets sporting dual-core chips are also coming. But it's not clear when a dual-core Phone 7 device might show up. Lees told AllThingsD that Microsoft wants to make sure Phone 7 software is optimized to take advantage of multiple processor cores before working with manufacturers on producing dual-core devices.
While that sounds sensible, Microsoft would be better off figuring out dual-core optimization sooner rather than later or it might find Phone 7 is left behind once again. Apple recently announced its first dual-core phone, the iPhone 4S, and handsets powered by Nvidia's Kal-El quad-core chip for mobile devices are expected in the coming months.
Connect with Ian Paul (@ianpaul ) and Today@PCWorld on Twitter for the latest tech news and analysis.