Are you good with money? In an economy where every penny counts, it is crucial to stay on top of where your money is coming from and where it's going. Intuit has added new features to Quicken 2012 that improve the venerable finance software and help consumers and small businesses manage their finances better.
Quicken has been around for 28 years and remains the number-one personal finance software. As capable and respected as the software is, Intuit continues to evolve the brand to make it easier for individuals and small businesses to use.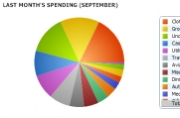 Quicken 2012's additions include more insight into your spending, saving and investing, alongside customer service improvements, said Aaron Forth, vice president and general manager of Intuit Inc.'s Personal Finance Group.
Quicken 2012 has an updated bill reminders tool that lets users take control of their financial lives and avoid costly mistakes, such as late fees and missed payments. Quicken 2012 also includes enhanced budgeting and debt reduction tools to enable more effective financial management and planning.
"Knowing more about your current financial situation means you can more effectively plan for the future," said Forth. "Ultimately, we want to help people save and do more with their money."
Personally, I've used Quicken for nearly two decades for my personal finances. There was a brief period where I was using Kiplinger's Simply Money, but I quickly reverted to Quicken.
When I went into business freelancing I needed more robust tools than the basic Quicken had to offer. I looked into Quickbooks, but that seemed way to complex for my needs. I just wanted to be able to create some invoices and be able to track who owes me money. I didn't want to become an accountant.
I've found that Quicken Home & Business does what I need without being too complicated. The only caveat I would add to that, though, is that you will get more out of using Quicken if you take the time to set it up right.
The value of the information you get out of Quicken is tied directly to the value of the information you put into it. Take the time to fill out details like bill due dates, interest rates, and other account related information. The more Quicken knows about the details of where your money is going, the better job it can do in guiding you to make wiser decisions with that money.
Quicken is available in a variety of versions to meet different needs. Quicken Starter Edition provides basic tools for managing personal finances for $30. There are also Quicken Deluxe and Quicken Premier editions for those with more advanced tax or investment needs. For small businesses, Quicken Home & Business, or Quicken Rental Property Manager provide more comprehensive business finance tools.