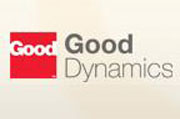 Good Technology is opening up its technology platform so that enterprises and third-party developers can build secure mobile applications running on its infrastructure.
Good customers already have access to secure mobile email, address book and calendaring through Good Mobile Messaging, and secure Internet access through Good Mobile Access. "But what we're finding with customers, especially with the iPad, is a hunger and thirst for many more apps than these two scenarios," said John Herrema, senior vice president of corporate strategy for Good. "Good Dynamics is a platform that allows application developers to easily secure their apps on mobile devices without having to become security experts."
Good on Tuesday is launching the Good Dynamics Developer Network program, which offers members access to the Good Dynamics SDK (software development kit) and the company's network operations center infrastructure, as well as resources and support. Applications built using the Good Dynamics software will run over the existing Good platform, which includes server software at an enterprise, Good's network operations center and handset software.
Dynamics includes code libraries that let developers add security functions like user authentication, stored data encryption and encrypted data transmission to their applications. The libraries work with development tools that developers already use, making it easy for them to apply those libraries to their applications to add the security features, Herrema said.
Good has already begun working with a number of application development vendors that are using Dynamics, including Pyxis Mobile, Group Logic and Quickoffice.
But enterprises are likely to use Dynamics internally too, Herrema said. "Many of our enterprise customers have gone from one or two mobile developers to tens and even entire mobile development teams," he said. That's because as enterprises develop applications for workers, they are finding that employees want access to the applications on mobile devices.
The developer program opens on Tuesday and Good expects to make Dynamics commercially available next month.
Nancy Gohring covers mobile phones and cloud computing for The IDG News Service. Follow Nancy on Twitter at @idgnancy. Nancy's e-mail address is Nancy_Gohring@idg.com