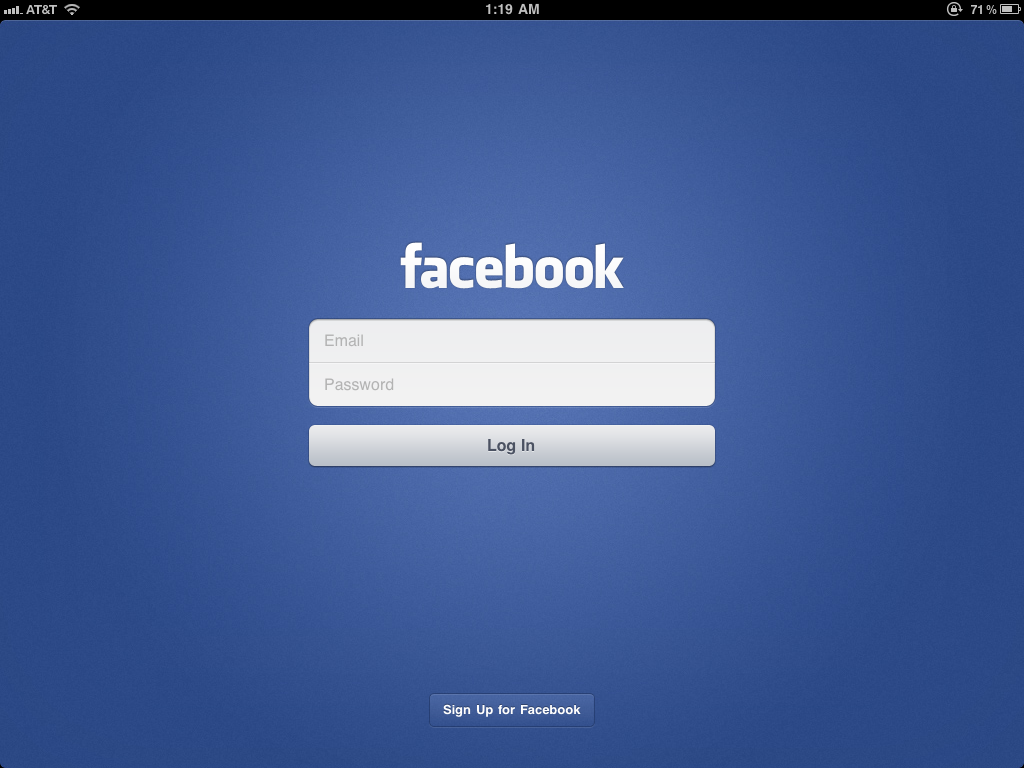 Facebook has finally released its first official iPad app Monday. The free app is currently available for download in the iTunes store, and isn't so much an iPad app as it is a universal version of Facebook's original iPhone app.
Facebook's iPad app offers definite improvements over its mobile website, as well as minor improvements over third-party Facebook iPad apps, such as Friendly for Facebook.
Let's take a look!
Facebook's login screen is simple and blue, and looks exactly like the login screen for Facebook's iPhone app.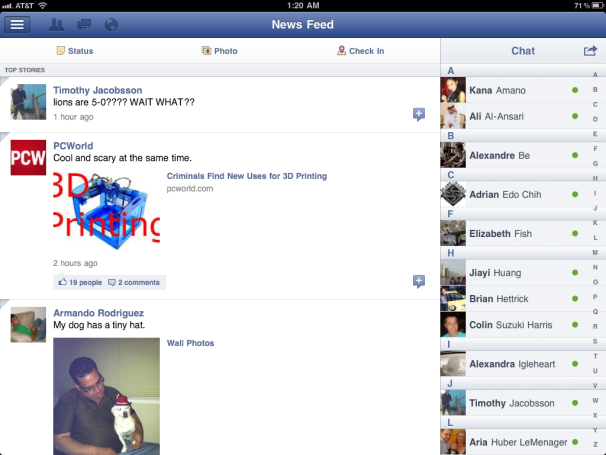 When you have your iPad in landscape mode, your newsfeed appears on the left side of the app, while your chat list appears on the right side of the window–similar to how Facebook appears in browsers. There is no mini-newsfeed in the upper-right corner, however, but I don't think this is much of a loss.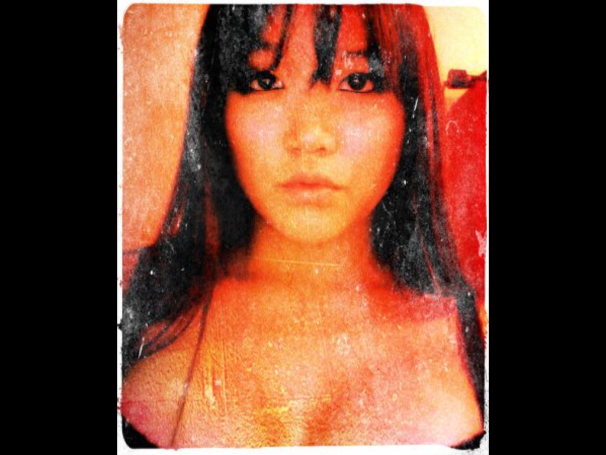 Facebook's new iPad app allows for improved browsing and navigation. The Photos section of the site is prominent, and you can swipe through photo albums with ease, as well as pinch-to-zoom any particular photo.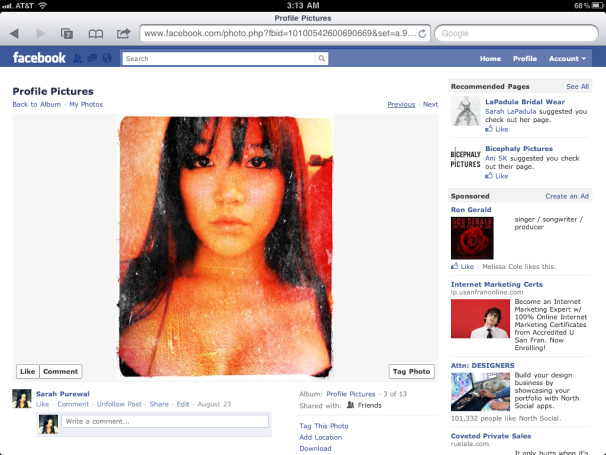 While you can pinch-to-zoom in Facebook's mobile website, navigating through photos is much less intuitive, since you're basically clicking through an album link by link.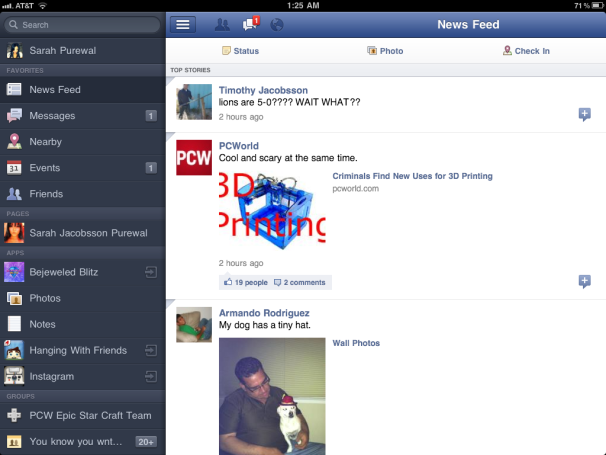 At the top of Facebook's iPad app are four buttons–the Menu button, which opens up a dark gray side menu with all of your basic options: Profile, News Feed, Messages, Nearby, Events, Friends, and any Pages, Games, or Groups you use/are a part of. There's also an Account options area, but this is just for basic account options–privacy settings, etc.–it's not for app settings. As far as I can tell, there are no app settings.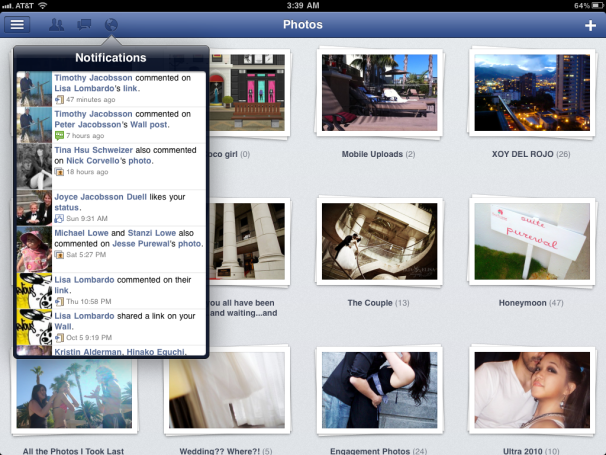 There are also your basic notification buttons–for friend requests, new messages, and other notifications. Clicking on any of these buttons lets you see your new notifications in a pop-up window, so you don't have to worry about losing your place.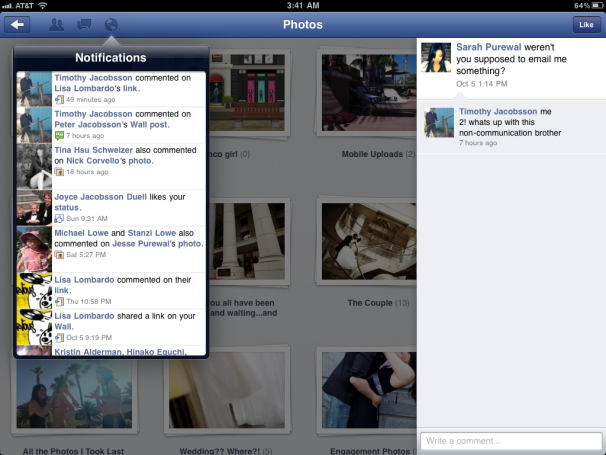 If you want to see more of your notifications, clicking on any particular notification brings up the whole notification in a side window, so you really don't have to worry about losing your place.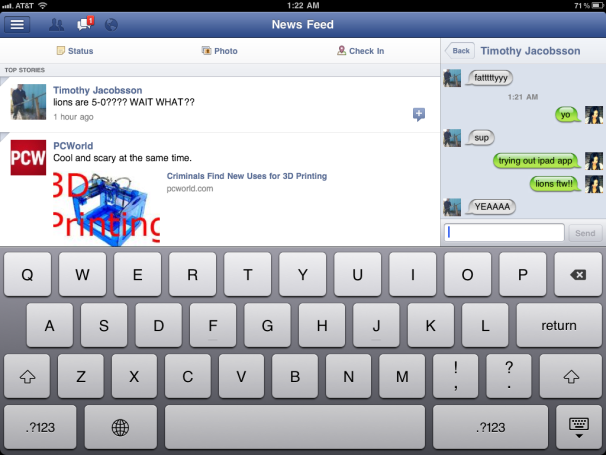 Chatting is very smooth–though it's admittedly smoother over a solid Wi-Fi connection, rather than a 3G connection. To chat with someone, just click on their name in the chat panel, and your conversation will begin in the same window. To have more than one conversation you'll need to manually switch back and forth between windows (all your chats will appear in the same area), but the app does play a sound when you get a new message, so you don't have to worry about missing anything.
The only small issue I had with the chat service was that there's no option to hit the "return" key to send a message–instead, you have to hit the "Send" button. While this doesn't sound like much of an issue, the Send button is unfortunately close to the backspace key–I probably hit the backspace key instead of the Send button about 60 percent of the time in my tests.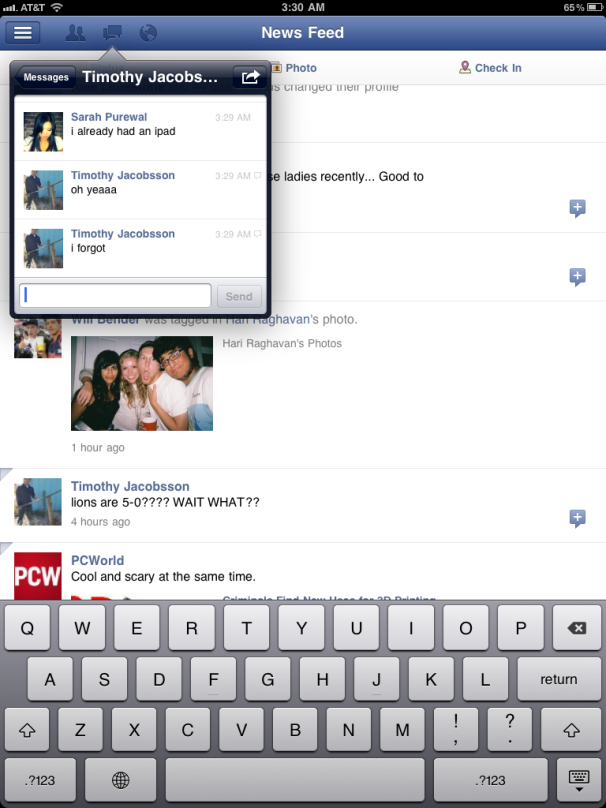 Still, this in-window chatting is a very nice feature–rival iPad app Friendly for Facebook also allows chatting, but its interface is much clunkier and you have to go to another screen to do it. In-window chatting is also available in portrait mode on the iPad–but it's through the messaging button.
The Games/Apps area in Facebook's iPad app is interesting. On the one hand, it allows you to access third-party Facebook apps. On the other hand, it only allows you to access third-party Facebook apps that are compatible with the iPad–and, as far as I can see, only those app that actually have iPad apps. For example, I'm able to access Bejeweled Blitz, Hanging With Friends, and Instagram–but if I click on them from Facebook's menu, I'm taken out of the app and over to the App Store (actually, I'm taken to iTunes and then to the App Store). However, I can't access non-iPad-app friendly apps, such as Gilt Group, Coco Girl, or Shaker (all of which I have linked to my Facebook account, but which have no iPad compatibility).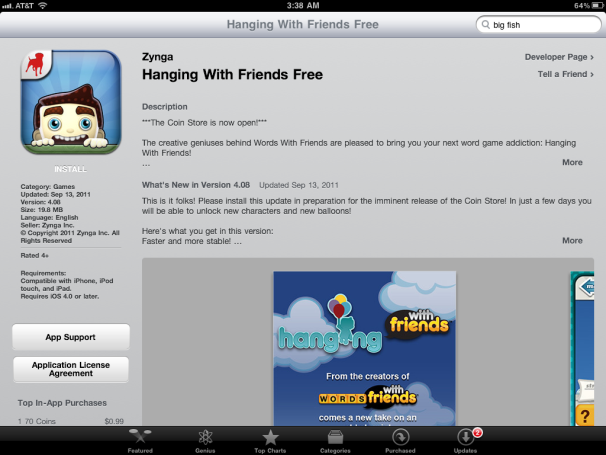 While Facebook's new iPad app isn't perfect, it's certainly a huge improvement over our other official option: Facebook's mobile website. Facebook's new app is also smoother, more intuitive, and less clunky than third-party Facebook iPad apps, such as Friendly for Facebook. Still, the iPad has been out for over a year now, so Friendly for Facebook enjoyed a decent run.