X1 Mobile Search, an app that lets users look at a document or e-mail when they are away from their computer, is now available for free.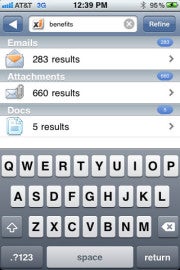 The app, which had been priced at $19.99, allows users to perform "As You Type" searches on networked desktops running either Windows or Mac OS X from an iOS device.
Typical remote access apps let you tap into your desktop computer, but in order to find something there, you need to know where it's residing. Even then, you're forced to drill through your desktop's file structure to get what you want. X1 Mobile Search is like having a remote version of Windows search or Spotlight on your phone. As you type in your search terms, with each keystroke the app updates your search results on your phone or tablet.
"X1's design eliminates the wasted time of clicking through search results, opening and closing one document after another," observed Sue Feldman, vice president for search and discovery technologies at IDC, in Framingham, Mass. "Pulling together documents, attachments and email in one easy-to-use interface cuts down on time spent looking so that workers can start doing."
Features in the new update of X1 Mobil Search include:
Search for data in e-mail, attachments, documents and files in programs such as Microsoft Outlook, Microsoft Exchange, Lotus Notes, Lotus Domino, Mozilla Thunderbird, Zip Archives, Microsoft Office documents and PDFs.
Fast-as-you-type searching, including searching through e-mail based on the from, to or subject lines.
View documents in their original formats, edit them on compatible apps and print and share documents and files on your mobile device, as well as reply, forward and share e-mails.
Enterprise-grade security — x.509 PKI based two-factor authentication and RSA powered SSL/TLS — and advanced network support, including Verizon/CDMA and AT&T/GSM.
AirPrint support and video mirroring, which allows projector presentations from an iPad 2 and the ability to share documents and presentations on HDTVs and projectors.
"X1 Mobile Search allows access to your computer's files from anywhere, and will instantly find exactly what you're looking for," Christopher Walton, X1's vice president of products and strategy, said in a statement.
"With this release, we're making it easier for users to find and manipulate files, regardless of where they reside on the desktop, or what desktop solution they're using," he continued. "Whether they use our X1 Professional Client, Windows Search or Mac Spotlight, X1 Mobile Search will now work for them."
Follow freelance technology writer John P. Mello Jr. and Today@PCWorld on Twitter.