At a Glance
Expert's Rating
Pros
Massive and colorful display
NFC chip
Extremely powerful mobile processor
Cons
Small bezel around the screen
No MicroSD card included
Our Verdict
Like the rest of the Galaxy S II series, the Galaxy S II on T-Mobile is one of the best phones currently available, hands down.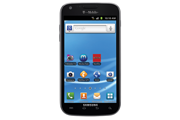 Considering the massive screen, the crazy-powerful processor, and the NFC and 4G support, it's hard not to fall in love with the Samsung Galaxy S II on T-Mobile. Available for $220 with a new two-year contract (as of October 10, 2011), the Galaxy S II is a great phone. It has just a few minor flaws that keep it from being truly amazing.
A Tablet-Size Phone
The Galaxy S II boasts the same gigantic, 4.52-inch (480-by-800-pixel resolution) screen we saw on the Epic Touch 4G for Sprint–and that impressive screen is definitely the phone's biggest draw. Colors on the Super AMOLED Plus display appear bright and vibrant, if a little oversaturated. The phone is extremely lightweight, thanks largely in part to its plastic casing. I was never really a fan of the plasticky body of the original Galaxy S, but the Galaxy S II feels solid enough that I can overlook it here.
At 5.11 by 2.71 by 0.37 inches, the T-Mobile Galaxy S II is slightly taller and thicker than the version made for AT&T. When comparing the two phones side by side, I found that I preferred the AT&T Galaxy S II over the T-Mobile one simply because it was much more comfortable to hold. Although larger screens are great for activities such as watching movies or browsing the Web, I thought that the screen size of the T-Mobile Galaxy S II seemed like a bit of overkill on Samsung's part.
The biggest problem I have with the T-Mobile Galaxy S II is how narrow the bezel is at the sides of the screen. When I navigated the large screen, the bottom part of my hand would constantly hit one of the capacitive buttons under the screen, or brush against the bottom quarter of the touchscreen. Whenever I went to check a notification or enter a URL in the browser, I also ended up opening a menu or launching the dialer. In one instance, I was in the middle of composing a text message, and I wound up closing out of it several times before I could send it.
Specs and Performance
With a 1.5GHz dual-core Qualcomm Snapdragon processor, the T-Mobile Galaxy S II is the most powerful one of the bunch. Everything from basic phone functions to intense 3D games run as smooth as silk. The only time the phone ever slowed down or got stuck was when I tried unlocking it: The lock screen hung for about 3 seconds before responding. To be fair, at the time I was downloading and installing 15 apps at once, so that could explain the minor hiccup I experienced. The phone comes with a Task Manager; since the handset has 1GB of RAM, however, you shouldn't ever need to use it.
To–ahem–better test how well the Galaxy S II handled games, I downloaded and played Minecraft: Pocket Edition on the device. The game ran well and looked great on that massive display–the Galaxy S II makes for an above-average mobile gaming device. After a good hour of play, I noticed the phone getting really warm, but it wasn't hot enough to be uncomfortable to hold. I also noticed that my hour of gameplay had little effect on the battery–I probably could have squeezed another 2 to 3 hours of Minecraft in if I were so inclined. After about 4 hours of heavy use over 4G, I managed to drain the phone's battery completely. Samsung has rated the phone as lasting 167 hours on standby, but we'll have to wait for the PCWorld Labs to test the phone officially to see if that claim holds up.
Call quality on the T-Mobile Galaxy S II was nice and even in San Francisco, but the people I called said that I sounded slightly distorted. The occasional hiss and warping cropped up on my end, but it was hardly noticeable. Overall I can say that making calls using the Galaxy S II was an excellent experience.
Using the Speed Test app as an informal network test, I managed to get 3 megabits per second down and 0.44 mbps up in San Francisco. We don't have the best T-Mobile 4G coverage here, but those speeds are typical of what we have seen with past 4G T-Mobile devices.
Software and Extras
The Samsung Galaxy S II runs Android 2.3.5 (Gingerbread) and has a few preloaded apps. Netflix comes preinstalled, and runs extremely well over 4G. I could have done without the Blio and Zinio apps, but I can see their usefulness for people who like to read while on the go.
Being a Samsung phone, the Galaxy S II also sports the latest version of TouchWiz. Personally, I prefer vanilla Android or the HTC Sense overlay, but TouchWiz has a few things that I really enjoy. Aside from the bright and colorful icon set, this iteration of TouchWiz employs motion controls for basic actions. To zoom in on a Web page, for instance, you simply place both thumbs on the screen and tilt the phone forward or backward. I found this motion far more intuitive than pinch-to-zoom, and far more accurate.
In addition, I was pleasantly surprised to find out that the T-Mobile Galaxy S II comes with a Near Field Communication chip. With such a chip, the Galaxy S II can read NFC-compatible tags. We haven't seen many phones that support NFC, and it's a neat technology that I wish more phone manufacturers would include in their devices.
Multimedia
Considering the phone's giant screen, you'll likely want to watch movies on this handset. Although I'm not normally a fan of using a phone as a media player, I can see the appeal of doing so with a display of this size. If you are adamantly against watching videos on your phone, you can easily share them with your DLNA-enabled devices using AllShare.
The phone has 12GB of internal storage, but unfortunately it doesn't come with a MicroSD card. The Galaxy S II is a stellar music player, though, and could easily replace your stand-alone MP3 player. Should you decide to make the Galaxy S II your primary audio device, the phone comes with a pair of (mediocre) headphones that you can use.
Photos that I took with the phone's 8-megapixel camera turned out sharp and clear. Colors seemed a little off, but still looked good overall. The 2-megapixel front-facing camera also did a good job of capturing still images, though it works better for video chat. The Galaxy S II records video at 1080p, and holds its own as a video camera; it picks up voices nicely, but the footage suffers from a jelly effect when you move the phone around.
Bottom Line
The Samsung Galaxy S II is the best phone you can buy right now on T-Mobile. This is a top-of-the-line phone, and it's perfect for people who love larger screens. Though some people may find the handset a little too big, the inclusion of 4G and NFC means that this device won't feel dated down the line. If you crave true power from your smartphone, and if you want the best that your carrier has to offer, the Galaxy S II is the phone to get.
Note: When you purchase something after clicking links in our articles, we may earn a small commission. Read our affiliate link policy for more details.