At a Glance
Expert's Rating
Pros
Blu-ray support
Great price to performance ratio
Push-button CPU speed adjustments
Cons
Lacks much internal room for upgrades
Our Verdict
You can do a lot with the super-fast speeds on Lenovo's inexpensive PC: You just can't put that much more into this system.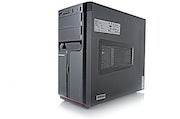 We wish we could throw a few of our favorite $1000-or-less Performance Desktop PCs into a pot and create a stew that combines the best features of each–now that would be a desktop system! Lenovo's IdeaCentre K330 brings some of the bestspeeds we've seen for a system priced at around its level ($999 as of October 11, 2011), but it's not quite as competent in other areas that might have helped this system shine brighter in a home office or gaming den.
Longtime readers may recall the Lenovo IdeaCentre K220–a budget desktop PC from about two years ago. The K330 is so much faster that it doesn't belong in the same category with the K220. An Intel Core i5-2500 processor, clocked at a brisk 3.3GHz, enabled the K330 to scream through our WorldBench 6 test suite. The system's score of 164 doesn't lead the category, but it reflects an excellent price-to-performance ratio for this machine. We also appreciate that the K330 throws 8GB of DDR3 memory into the mix, but we're a little surprised that Lenovo opted for RAM rated at a speed of 667MHz instead of the faster (and more common) DDR3-1333.
The K330 is definitely better suited for general-purpose use than for gaming. Its single Nvidia GeForce GT 440 graphics card delivered lackluster frame rates on our Unreal Tournament 3 benchmark: 33.2 frames per second at 2560 by 2100 resolution and a high quality setting. On the plus side, you don't have to dial the system's resolution too far down to achieve stronger results. We obtained 59 fps on runs conducted at a 1920 by 1080 resolution and high quality–and that's only a hair away from the refresh rate of a typical LCD monitor.
Unique to the K330 is a switch on the system's front that allows the user to alter the system's speeds dynamically by flipping from one to another of three settings–Turbo, Auto, and Cool–which turns part of the system's front panel red, blue, or green, respectively. Don't assume that this feature is some kind of automatic overclocking mechanism that will kick the K330 into high gear. It merely changes some settings in Windows' Power Options menu, most notably the minimum and maximum processor states. In effect, it lets you set the K330's CPU to run at full blast 100 percent of the time, modulate the speed continuously to meet system demands, or run at a consistent reduced speed to conserve power.
Lenovo's inclusion of a Blu-ray combo drive on the system's front is the most exciting thing about that part of the PC. Two USB ports and a multiformat card reader don't deliver much connectivity or diversity on the front panel, but the K330's back panel compensates with six USB ports–though no USB 3.0, regrettably–plus a single eSATA port and a gigabit ethernet port on the motherboard itself, and DVI, VGA, and HDMI ports on the graphics card. The system's integration of 7.1 surround sound is a treat, but we wish Lenovo had included FireWire, an extra eSATA port, some USB 3.0 ports, or DisplayPort.
The wiring inside the system is a smidge messy, but it won't prevent you from installing a new device in the single free 5.25-inch bay or the single free 3.5-inch hard drive bay (a 1TB hard drive occupies the second bay). That's not a lot of free space to work with, even for a midsize tower desktop, but we commend Lenovo for making its upgrading options completely screwless. One free PCI Express x16 port and two free PCI Express x1 ports set aside room for a few add-on cards; they, too, are screwless upgrades.
A generic wired mouse and generic wired keyboard accompany the K330. The rest of the bundle consists of the system's Windows 7 driver CD, hardware replacement guide, and user guide. We had expected a slightly fancier mouse or keyboard with a system that puts processor management front and center on the case.
In general, Lenovo's IdeaCentre K330 feels a bit like a compact PC in a midsize tower case. We love its speeds and its simple add-ons, but we're disappointed that we can't do much internal upgrading (or external device connecting) before running out of room (or ports). The K330 isn't a bad computer by any means; it's just not as well-rounded in its features as a killer $1000 system could be.