Huawei has teamed up with T-Mobile to offer the T-Mobile Springboard tablet. Pricing was not announced. The budget tablet was shown at the CTIA phone and tablet show, which opened Tuesday in San Diego.
I managed a few minutes with the Springboard, and came away reasonably impressed with the tiny tablet. Its screen measures only 7 inches, which makes it fit nicely in a pocket or purse. The tablet has a mostly aluminum body.
The Springboard was extremely responsive thanks to its Snapdragon processor. While T-Mobile's 4G network may not be the fastest, webpages loaded smoothly for me, and I was able to stream some video over Netflix without a hitch. Though small, the screen looked very sharp. Text was very easy to read, and the tablet is comfortable to hold in one hand.
I've used 7-inch Android tablets before, but all, so far, have run Android 2.3 or lower. What makes the Springboard standout is that it runs Google Android 3.2 (Honeycomb). Note: Acer has already started shipping its Aconia Tab A100 7-inch tablet, which also runs Honeycomb. It is priced at $329.
Here's some more information on the Springboard: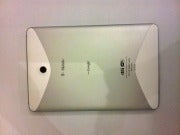 The Springboard's specs include the 1.2 GHz dual-core Snapdragon processor, 1GB of RAM, 16GB of internal storage, and support for T-Mobile's 4G network. There is even a micro HDMI out port, in case you want to view your tablet content on a larger screen.
I was disappointed to find out that the promised battery time is only 6 hours. Still, this is the first 7-inch tablet where I've honestly been impressed by its overall performance.
Pricing Not Announced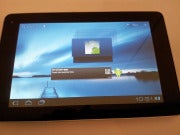 While no pricing details have been announced yet, T-Mobile and Huawei bill the Springboard as the most affordable Android tablet. With other Android tablets (such as the Amazon Kindle Fire) coming in at $200, hopefully Huawei and T-Mobile follow suit on pricing. A $200 Android tablet running Honeycomb would be a major boon to the Android tablet ecosystem.
When asked exactly how affordable the tablet would be, a Huawei spokesperson simply replied: "You will be surprised." Here's hoping that the surprise will happen in a good way.