At a press conference this morning at CTIA 2011 in San Diego, Chinese company Huawei outlined its strategy for entering the U.S. mobile market.
We've seen quite a few Huawei devices here already, like the AT&T Impulse 4G (launched in September), and the Huawei MC835 (announced by MetroPCS in July).
The company also announced an inexpensive Android Honeycomb tablet, the T-Mobile Springboard, earlier this week.
Huawei's goal is to offer more affordable Android smartphones, a growing category for both pre-paid carriers and the Big Four (AT&T, Verizon, Sprint and T-Mobile). Bill Plummer, vice president of external affairs for Huawei, stressed the company's goal of providing affordable smartphones for everyone.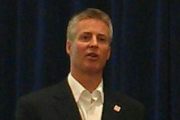 Customers who have been locked into owning feature phones because they can't afford smartphones can now graduate to more advanced phones without breaking the bank, Plummer said.
Plummer also explained how this growing market of phones will benefit carriers. "It also allows for carriers to capitalize on their network investments by tapping a new consumer segment and related higher data-driven and multimedia service-enabled revenues – a win-win for everyone."
Huawei's goal is to become a top-five player in the US market within three years, which the company believes to be achievable.
Inexpensive Android phones, on both contract and prepaid carriers, have been an ongoing theme for the CTIA show so far. Manufacturers like Samsung, ZTE and Pantech have announced inexpensive, entry-level Android phones this week.
Stay tuned for more news and first looks at all of the hottest phones and tablets coming out of the 2011 CTIA show in San Diego.