The demand for low-priced tablets has gone up in recent months, as witnessed by the mad rush to buy Hewlett-Packard's US$99 TouchPad tablet. Tablets priced at $199 with Google's Android OS are now becoming available from companies like Amazon and Lenovo. The devices have a simple user interface and provide basic multimedia playback, gaming, application execution and e-reading capabilities.
However, at such low prices, these devices lack the speed and graphics found in Apple's iPad or Samsung's Galaxy Tab, which have the latest processors and graphics hardware. But at that price, the tablets are decent entry-level devices for first-time users.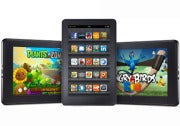 Amazon's Kindle Fire
Amazon's highly anticipated Kindle Fire is available for $199 and will start shipping Nov. 15. The tablet has a 7-inch screen and makes it easy for users to access Amazon's movie, music, e-book and app store. Free cloud storage up to 5GB is available to keep music, videos, photos or documents. Users can also read color books, but the backlit LCD screen may not be as friendly on the eyes as the Kindle e-readers.
The lack of a camera is a disappointment, but the tablet supports Flash and can display images at 1024-by-600 pixel resolution, which is high quality considering the price range. It has a dual-core ARM processor, making it comparably faster than tablets priced in the same range. The tablet also has some new software features such as the Silk browser, which could speed up Web browsing by pre-processing pages in the cloud. Amazon's full suite of hardware, software and services with the tablet could give it an edge over low-priced tablet rivals, which offer the hardware but are not competitive on services. Some iPad owners have already ordered the Kindle Fire as a secondary tablet for home use.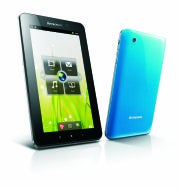 Lenovo's IdeaPad A1
Lenovo's IdeaPad A1 tablet was announced in September at a price of $199.99 to the delight of budget buyers. The tablet has a 7-inch capacitive touchscreen, a single-core ARM processor and a customized Android interface that provides one-touch access to the Web, gaming and specific apps. The tablet supports Flash and the screen displays images at a resolution of 1024-by-600 pixels. Earlier this week, Lenovo increased the tablet's base price from $199 to $229, but it is still available for $199 through retailer ExcaliberPC.com. The company did not respond to requests for comment on the price increase.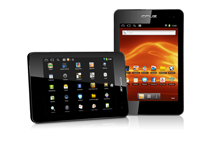 Velocity Micro's 8-inch tablet
Velocity Micro is offering the Cruz T408 tablet for $199.99, with an 8-inch display. The tablet has Google's Android 2.3 OS, a capacitive touchscreen, Flash support, a front camera and a 1GHz ARM processor, and it offers access to an Android app store via Amazon's marketplace. Some key tablet applications, such as Quick Office, Angry Birds, YouTube and Facebook, come pre-installed. The screen displays images at an 800-by-600 pixel resolution, which does not match up with tablets from Lenovo or Amazon, but it does have a larger display than tablets from those rivals.
Coby's Kyros 7-inch Android 2.3 tablet
Coby, which is primarily known for its e-readers, is selling the Kyros MID7022 for $175 on Amazon. The tablet runs Android 2.3, with a 1GHz processor, a capacitive touchscreen, USB port, camera and full high-definition video capabilities. But many customers on Amazon complained about lack of Flash support and no access to the Android Market to download apps, which could curtail demand for the device. However, applications could possibly be downloaded from stores such as GetJar, and there are possible work-arounds to add Flash support. Some users also complained about poor wireless support, but this tablet could be a decent budget buy for those willing to overlook technical issues.