At a Glance
Expert's Rating
Pros
Simple to use
Great for beginners
Free
Cons
No plugins
Can't upload your own themes
Our Verdict
WordPress.com gets you quickly up and running with a free WordPress-based blog, so you can just focus on the content.
When you've got something to tell the world, get out there and write it. Today, it's easier to do than ever before to let your voice be heard. Social networks engage us in conversations with people we already know, but public blogging services like WordPress.com (free, with optional for-pay extras) let us carve out a niche for ourselves where others can benefit from our knowledge and perspective–even if we've never spoken to them before.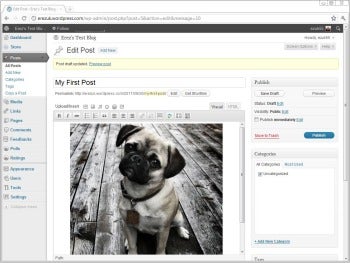 You may have heard of WordPress before; it's hard to miss, as it's one of the most popular blogging platforms on the planet. According to the stats on WordPress.com, there are currently over sixty million WordPress-based websites in the world, with about half hosted on WordPress.com, and over 100,000 new WordPress websites are created every day. In other words, this is a big, solid, proven platform for your message.
One thing that's important to understand is the difference between WordPress.org and WordPress.com. WordPress.org is where you can get WordPress itself–the blog engine and content management system. It is open-source and free to use, but you still have to host it somewhere. WordPress.com offers free and easy-to-use WordPress hosting. The version of WordPress you get on WordPress.com does come with some limitations, which I'll look at below.
Setting up a blog on WordPress.com is very, very easy. You simply go to the signup page, choose a username, a password, and a name for your blog. That's about it. You do need a valid email address, but you don't need a credit card or any other identification. Once you fill in these basic details, you get your very own WordPress installation, ready to be customized and populated with whatever it is you'd like to write about.
When you go with a third-party host (not WordPress.com), you can customize WordPress in any number of ways, since you have access to the actual code and can install plugins or modify its innards. With WordPress.com, this is one thing you cannot do. You can install themes out of a selection of around 150 pre-approved themes (some free, some premium), and you can't add any plugins.
That doesn't mean WordPress.com isn't powerful: Automattic (the makers of WordPress) made sure to pack it with lots of functionality, so you can easily create online polls, check how your blog is doing with its built-in analytics engine, request feedback on posts from your friends before publishing them, and more.
If, with time, you find out the included free options aren't quite enough for your needs, you can always use the built-in store to buy extras. These range from your own domain name (as opposed to the default blog-name.wordpress.com, for $17/year), a space upgrade (starting from $20/year), a custom design ($30/year), and more.
WordPress.com doesn't lock you in, either: If your blog becomes popular and you wish to move on to a self-hosted WordPress.org installation, you can always migrate your existing content and design. They even provide a Guided Transfer service whereby an engineer migrates all of your content for you, for $119.
If you've ever felt the need to express yourself online but were daunted by the technical details involved, check out WordPress.com. It's not the simplest blogging platform around (that would be Tumblr or Posterous), but it offers a beautiful balance of simplicity and power.
Note: This link takes you to the vendor's site, where you must sign up to use this Web-based software.
–Erez Zukerman