At a Glance
Pros
Paid upgrades are truly optional
Retro fun
Cons
Few monsters in each zone
Nostalgia trip may not appeal to all
NEStalgia may be something unique, or at least rare: a game that takes a modern genre, the graphical MMORPG, and transports it back in time to the late 1980s, well before even the oldest MMOs were envisioned. Text-based MU*s were around, of course, but 'MMORPG' generally refers to consumer games with graphical interfaces. Many older MMORPGs, such as Meridian 59, are still kicking but NEStalgia goes them one better creating an MMO in the style of 8-bit NES games such as the earliest iterations of Final Fantasy.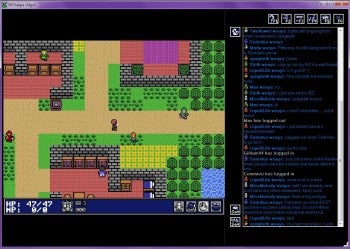 Never mind pushing your graphics card to the limit just to show off your sparkling new epic shoulderpads. In NEStalgia, your avatar strongly resembles a Fisher-Price Little Person prior to their 1991 upgrade, a peg person distinguished by color patterns for armor and skin. The game world is a two-dimensional map of simple graphics tiles. When you encounter monsters, there's a brief flash of light, and you switch to a different screen, with the monsters lined up in front of you as you issue commands to kill them, using a turn-based interface.
NEStalgia gives you everything you'd expect from a modern MMORPG. You have quests to kill slimes and collect bandit masks, and completing quests opens up new ones. You have a bank. You have guilds. You have boss monsters which may require a party to kill. You have an ongoing scroll of chatter in a side window filled with people asking questions already answered in the online help or the useful wiki. You can group or grind to your heart's content, gaining XP and gold, unlocking new powers, and finding a new sword that is slightly better than your old sword. The 2-D interface and generally relaxed pace of gameplay allows for some interesting puzzle quests, such as figuring out how to cross a room covered with slippery ice, or sneaking past guards in a prison.
On the downside, there aren't a lot of ways to customize your character; you can choose from a small set of 'milestone' abilities once per ten levels. A skill tree is planned for version 1.52. The variety of monsters in any given area is fairly small. True to NEStalgia's inspirations, you don't heal over time; if you have no magic or potions, you must go back to town to visit an inn. If you either never experienced the console days, or you're glad that time has moved on, you may find NEStalgia slow-paced or shallow.
The three live NEStalgia servers usually have a few dozen people playing on each of them at any time, creating a small community that is, generally, friendlier than the faceless masses seen on larger games. Of course, the occasional troll or flamer pops in, but they don't dominate the scene.
NEStalgia is free, but there is an optional $15 annual subscription. Other games change that much for a monthly subscription. Subscribers receive a wider range of character appearance options, a shared bank vault, four additional classes, and the ability to create a guild, among other things. There is no 'cash shop' or other means of nickel-and-diming you to death, and there are no constant reminders of all the things you could do if you spent more money. I'm looking at you, Lord Of The Rings Online.
–Ian Harac