Walmart is taking advantage of the local deals fad by allowing you to "Like" your local Walmart on Facebook and receive price drop alerts (aka Rollbacks in Walmart-speak). The move by the mega-retailer includes adding a whopping 3500 store-specific Facebook pages as part of a new push to streamline Internet communications with its customers.
(Editor's Note: This story was modified 10/13 at 10:45am ET)
Walmart's Facebook strategy shouldn't be confused with daily deals services such as Groupons. At Walmart deals take the form of Rollback alerts – meaning everyone gets the same price. Walmart will also use store-specific Facebook pages to alert customers of new products and in-store events, the company says.
First announced in a press release to the AP, Walmart's localized deals aggregator is now live–but only on Facebook. The Facebook page, called My Local Walmart, does not have a standalone Web site; the service is built entirely into the social network. This strategy taps into Walmart's almost 9.5 million Facebook fans and eliminates the hassle of bookmarking a new site, joining an e-mail list, or downloading an app.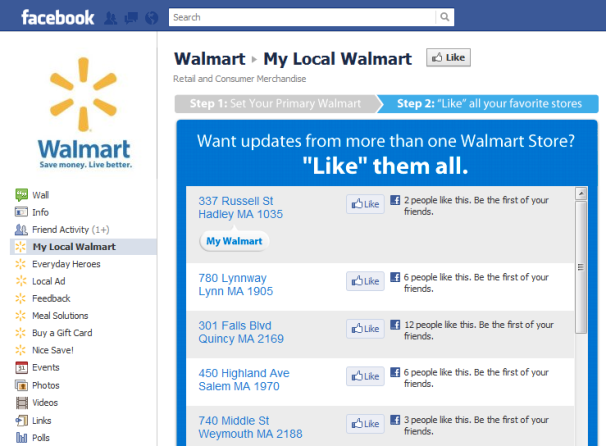 Walmart's Facebook page walks new users through the process of finding your nearest Walmart retail location out of its more than 3500 stores. When you find the nearest store simply "like" it.
With so many deal-type services and Groupon clones out there–including LivingSocial, Woot, Google Offers, Amazon's variety of deals sites and apps, and Bing's recently-announced deals page — it's amazing that consumers aren't completely sick of them. And we're really not: a recent Cornell study discovered that enthusiasm in group-based daily deals hasn't waned.
So if you're also not fed up with the mania of Black Friday, signing up for My Local Walmart might be a good way to shave a couple dollars off this year's holiday shopping budget.