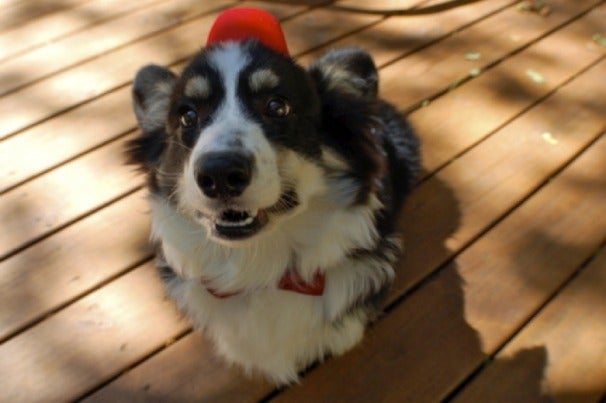 You've probably seen the picture of the dog dressed up as an Imperial All-Terrain Armored Transport walker (better known as an AT-AT), but if you haven't, follow this link. While Laika the greyhound's Halloween costume is pretty hard to beat, that doesn't mean your favorite furry friend can't get in on the nerdy dress-up fun. Etsy shop To Scarborough Fair will even help you out!
Coming out of Atlanta, GA, the Etsy store provides hats of all shapes and colors for your small domesticated animal, including wizard hats (with attached curly hair!), Robin Hood peaked caps, top hats decorated with gears (for the steampunk time traveler) or white damask (for the classy feline wedding guest). A disgruntled but nonetheless dignified-looking grey cat named Pixie models all the hats and bows, even enduring a hand-felted cowboy hat.
The shop owner cautions that it might require "A LITTLE EXTRA TLC" (capslock lovingly preserved) to get your cat or small dog to actually wear the hats, and each product page provides gentle suggestions on how to not freak out your pet with their new Halloween costume.
A few other excellent geek-themed pet costume photos have been making the rounds: have you seen Pug Yoda? And over on Tumblr, corgi darling Pudge has been developing a pretty darn good Eleventh Doctor costume.
Got any good nerdy pet costume ideas? Or pictures? Share in the comments!
Like this? You might also enjoy…
Get your GeekTech on: Twitter – Facebook – RSS | Tip us off