Recently someone asked me if it was okay to spray Windex on her monitor. I think my shriek of horror startled her. It is not okay to spray Windex (or anything else) on a monitor. In fact, when it comes to cleaning an LCD screen, there's a right way and a wrong way. Let's focus on the right way. (Want to clean your whole PC? Read our nifty how-to.)
For starters, turn your monitor off. In fact, if you want to eliminate any risk of shock or other electrical damage, unplug it altogether. (I really don't think this is necessary, but better safe than sorry.) There will be some moisture involved in this cleaning, and the last thing you want is for liquid to come into contact with anything powered.
Next, find a clean, soft cloth (a paper towel will do, but it's far from the best choice), then dampen it with water. Don't soak it–there should be no dripping to speak of–just get it moist. And don't use anything other than water. Ammonia- and alcohol-based cleaners can ruin an LCD. If your screen is seriously gunked up, and plain water doesn't get the job done, you can use a 50/50 solution of distilled water and white vinegar.
If you decide to use a spray bottle, make sure you don't spray it directly on the screen. That's because drops can seep in around the bezel (and/or land in the keyboard), and, again, moisture and electronics don't mix. What you can do is spray your water or solution onto the cloth, then wipe the screen. Use a circular motion, which is best for eliminating streaks, and apply only light pressure.
Finally, let the screen air-dry for a few minutes, or gently wipe it dry with a fresh cloth. When you're absolutely certain it's 100 percent dry, plug it back in and turn it on.
Now that I've got that public service announcement out of the way, on to this week's geeky fun.
The Easy Way to Turn Your Nook Color Into an Android Tablet
I'm a big believer in simplicity. (The column isn't called Hassle-Full PC, after all.) So when given the option between something simple and something complex, you can bet I'll choose the former every time–even if it means spending a few bucks.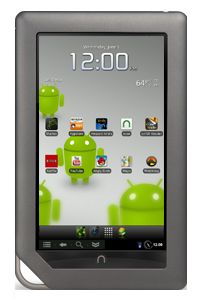 For example, not long ago I bought the Barnes & Noble Nook Color, a 7-inch e-reader that beat the upcoming Amazon Kindle Fire to market by a full year. Although it was pretty slick right out of the box, I wanted to test its acumen as a full-blown Android tablet. This is possible thanks to a process called rooting, which effectively means breaking into the operating system so you can mess around with it–or replace it. I did some research, and although rooting didn't seem that complicated, I did find it a little intimidating. The last thing I wanted to do was brick my Nook, to render it nonfunctional owing to some glitch or screw-up.
Thankfully, I found an easy alternative. A couple of enterprising developers have created special microSD cards especially for the Nook Color, cards that allow you to dual-boot the Nook OS and a specialized version of Android. In other words, you just pop one of these cards into the Nook's microSD slot, and presto: instant Android.
The real beauty of this is that it's a semi-permanent solution. If you don't want the Android environment any longer, just turn off the Nook, pop out the card, and reboot. Presto: You're back to the Nook OS. (Actually, you don't even have to take the card out, as you can choose the OS you want from a boot menu.) That means you're not voiding your warranty, unlike when you root the Nook.
I've tested a couple of these Nook Color cards, and they're both fantastic. The first, N2A, supplies CyanogenMod, a very popular Android ROM stocked with lots of great apps, including Amazon Kindle (so you're not locked into reading Barnes & Noble e-books), Angry Birds, and Words with Friends. Of course, you can always fire up Android Market and install more.
I also tried a card from Root My Nook Color, which offers a choice of three Android ROMs: CyanogenMod, MIUI, and PhireMod. Mine came with MIUI running an iPhone/iPad theme (one of many available), and dang if my Nook didn't look like a baby iPad. Really, really cool.
Prices start at around $35 for an 8GB card; both shops offer a 16GB version for around $50, and N2A sells a 32GB card for $90. Bear in mind this is something you can do yourself, using your own much, much cheaper microSD cards (Newegg, for example, has a couple 16GB cards for under $20)–but it's a hassle, especially if you don't know what you're doing. The pre-made Android cards offer plug-and-play simplicity–and the results are just plain awesome.
Want to Revive an Old Netbook? Try Lubuntu
Raise your hand if this sounds familiar: You bought a netbook a couple years back, thinking it would be your go-to travel PC, but quickly became dissatisfied with its sluggish performance–and stuck it in a closet.
Hey, that's a perfectly good PC you've got in there. It just needs a better operating system, one that fares better with less horsepower. Last year I wrote about Joli OS (formerly known as Jolicloud), which accomplished that very goal–but with a somewhat unfamiliar-looking interface that didn't appeal to everyone.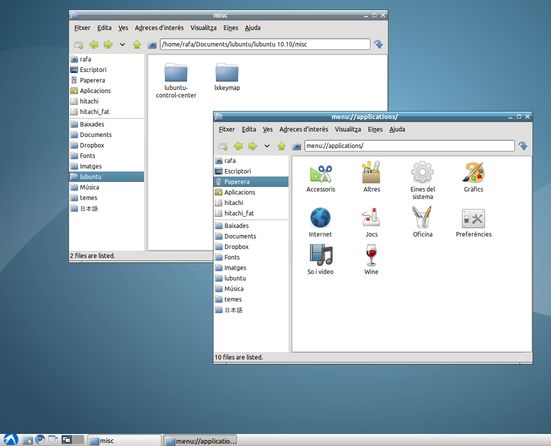 Another worthwhile option: Lubuntu 11.04, a fast, lightweight Linux distribution that promises to put the spurs to even the pokiest of PCs. Short for "light Ubuntu," it employs the Lightweight X11 Desktop Environment, or LXDE, as its user interface. It looks and operates in a way that should seem familiar to Windows users, meaning your learning curve should be slight.
Like all Linux "distros," Lubuntu is free. Like many distros, it's not exactly user friendly. Indeed, the product page might best be described as confusing and unhelpful. Allow me to get you started: Most people will want to download the "desktop-i386" ISO version.
Because netbooks don't have optical drives, there's little point in burning that ISO file to a CD (a common option for installing Linux). Instead, you'll want to install Lubuntu from a flash drive. (The instructions presented at that link are for the regular version of Ubuntu, but they're still applicable.)
Like I said, nothing about this is terribly user friendly. If you're not the tech savvy sort, ask your favorite geeky friend (or neighborhood teenager) for help. Also, there's a Lubuntu overview at Lifehacker that's worth checking out.
If you've got a hassle that needs solving, send it my way. I can't promise a response, but I'll definitely read every e-mail I get–and do my best to address at least some of them in the PCWorld Hassle-Free PC blog. My 411: hasslefree@pcworld.com. You can also sign up to have the Hassle-Free PC newsletter e-mailed to you each week.