Oh, Facebook. Always with the weird, unwanted, hard-to-undo changes. Like a couple weeks ago, I noticed that all of a sudden, every status update I posted included my location!
I'm quite sure I didn't request or enable that feature.
Previously, each update would note the time it was posted: "8 minutes ago," "2 hours ago," "yesterday," and so on. Now, Facebook tacks on information about where I was when I posted: "near Wolverine Lake," for example.
Unlike!
If you've noticed this as well, you've probably pored through Facebook's settings in search of a way to turn it off. Amazingly, there is no such setting—not that I could find, anyway. But there is a way to disable this unwanted location awareness, and it's hiding in plain sight.
When you click in the Update Status box, you'll see your closest city listed in the gray bar along the bottom. I probably looked at this a hundred times without actually realizing what it was or why it was there—it just kind of snuck under the radar.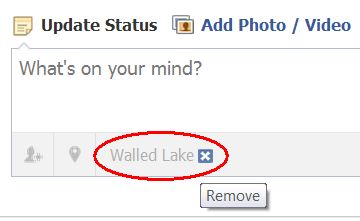 Mouse over that city and click the little 'x' to the right of it. Presto! No more location information tacked onto your status updates. If you want to restore it, just mouse over the now-blank area where the city used to appear, then click Add current city.
I'm glad this is such an easy change to undo, but annoyed that Facebook keeps slipping in stuff like this without notifying users or providing a straightforward opt-out option. Your thoughts?
Contributing Editor Rick Broida writes about business and consumer technology. Ask for help with your PC hassles at hasslefree@pcworld.com, or try the treasure trove of helpful folks in the PC World Community Forums. Sign up to have the Hassle-Free PC newsletter e-mailed to you each week.