Just a few days before the iPhone 4S launches, Samsung is sticking a thumb in Apple's eye and showing its rival that the iPhone isn't the only handset that can create big lines. The Korea-based electronics maker recently opened a temporary retail outlet in Sydney, Australia, offering the Galaxy SII smartphone for just $2. Every day until Friday, the first 10 people to purchase the popular Android-based phone at Samsung's "Pop Up Shop" will get the deal.
The Galaxy SII retails for more than $800 in Australia (about $500 contract-free in the United States), so it's no surprise that people have been lining up all week for their chance to be among the first 10 through Samsung's door each morning. But here's the kicker: Samsung's "Pop Up Shop" is just two doors down from Apple's flagship retail store in Sydney, according to the Sydney Morning Herald.
Samsung's scheme is also notable since Apple's George Street location in Sydney will be one of the first Apple Stores in the world to open its doors to iPhone 4S shoppers on Friday. Australian shoppers will start getting their hands on the iPhone 4S around 5 p.m. Eastern time Thursday, long before Apple Stores in the United States start selling the device.
So far, it appears Samsung is winning the lineup war as few people have set up camp outside Apple's retail store in Sydney. Samsung, meanwhile, appears to be attracting a few dozen people. However, the lines at the Apple Store may change as it gets closer to the iPhone 4S launch.
Guerrilla marketing techniques like Samsung's aren't unheard of when a competitor is about to make a big launch. But the Apple-Samsung line war in Sydney is notable since it is the latest move in a continuing rivalry between the two companies.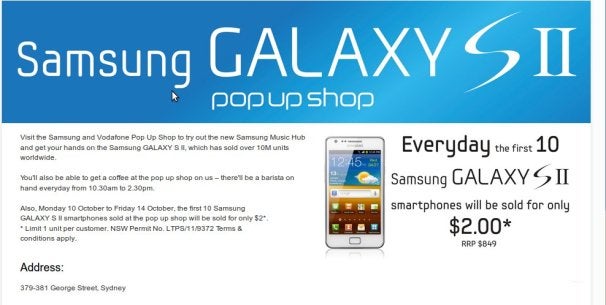 Apple has been asking courts around the world to ban the sale of Galaxy devices, claiming that Samsung is deliberately copying the look and feel of Apple products and infringing on its patents. Apple has requested bans for Samsung tablets and smartphones in a number of countries such as Australia, Japan, the U.K. and the United States.
Apple in late August succeeded in getting the Galaxy S, SII and Ace smartphones banned from sale in the Netherlands. Then, in early September, Apple prevented Samsung from selling the Galaxy Tab 10.1 in Germany.
Samsung has countered Apple's lawsuits by seeking to block sales of the iPhone 4S in France and Italy, claiming Apple's newest smartphone infringes on two Samsung patents. The electronics maker is also seeking a ban of the iPhone and iPad in the Netherlands.
Connect with Ian Paul (@ianpaul ) and Today@PCWorld on Twitter for the latest tech news and analysis.