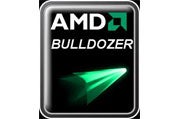 Advanced Micro Devices on Wednesday released the first eight-core desktop chips based on the new Bulldozer architecture, in which cores can run at clock speeds of up to 4.2GHz.
The chips will belong to the re-launched FX series, which are targeted at enthusiasts like gamers. The chips are "unclocked and customizable," AMD said.
The FX chips provide a speed boost of 50 percent or more compared to its predecessor, according to AMD. The chips started becoming available on retailer websites last week.
The FX-8150 chip cores will run at a base speed of 3.6GHz, with the ability to stretch up to 4.2GHz in turbo mode. The chip is priced at US$245.
The eight-core FX-8120 cores can run at speeds of up to 4GHz, with a base clock speed of 3.1GHz. The chip is priced at $205.
Last month, AMD demonstrated a system running on an eight-core FX processor running at 8.429GHz, which the company claimed broke the world record. The system was cooled by tanks of liquid helium.
More cores and higher clock speed bring more performance to PCs and are especially valued by enthusiasts like gamers, who are among the first to adopt cutting-edge technology. The eight-core chips are made using the 32-nanometer manufacturing process, and are available worldwide.
AMD's FX chips will compete with Intel's six-core Core i7-990X Core Extreme Edition processor, currently based on the Westmere architecture and more expensive at $999. In a bid to gain the performance crown, Intel in the next few months will release an Extreme Edition chip based on its newer Sandy Bridge microarchitecture.
FX (Bulldozer) CPU Family