Asus has introduced its UX21 and UX31 Ultrabooks, branding the devices as Zenbooks. Calling the Zenbook the "essential companion for this new Ultra Era," Asus chairman Jonney Shih claimed these ultrathin (under 3mm at its slimmest edge) laptops will last more than seven hours, offer second-generation Intel Core i7 processors, and have not just instant-on but a very quick two-second resume time.
Low Launch Price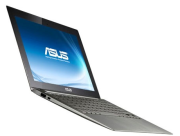 Following quick on the heels of the Acer Aspire S3-951, the first Ultrabook to be launched this week, the 11.6-inch Asus Zenbook UX21will sell for $999 and the 13.3-inch UX31 will sell for $1,099.
These prices are higher than the 13-inch Aspire S3, which is currently the lowest priced Ultrabook at $900. The Zenbook, however, offers a full SSD drive rather than the 20GB SSD just for Windows and traditional 30GB HDD in the Acer Aspire S3.
Comparing the Zenbook UX21 directly to a similarly outfitted MacBook Air, the UX21 will save you about $200. The UX21 base model uses a Core i5 processor, 4GB of memory, and 128GB of SSD storage, but you can upgrade to a Core i7 processor.
The higher-end Zenbook UX31 base model ups the storage capacity to 256GB SSD, adds an SD card reader, and starts at $200 less than the MacBook Air 13-inch model. Plus, it boasts the highest resolution display available of these competing ultraportables: 1600 x 900 pixels, versus the Aspire S3's 1366 x 768 pixels resolution and the MacBook Air's 1440 x 900 pixels resolution.
Instant On, Auto Backup, and Battery Life Enhancements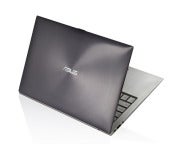 An interesting feature Asus has added to its Ultrabooks is an instant backup of your data as soon as the battery level reaches 5 percent, so you don't have to worry about losing your info at the last minute.
Shih also demonstrated the Zenbooks's instant on and two-second resume time, an advantage over "the competitor" (read: MacBook Air), which can take as long as six seconds to resume after eight hours of standby.
Professional-grade HD audio system, USB 3.0, mini VGA and micro HDMI ports, and a "metallic spun finish" on these 2.4 pound and 2.9 pound laptops are other hallmarks of the Zenbooks. They also come with one more bonus: Asus is also throwing in a protective sleeve.
Ultrabooks are Coming
These Zenbooks are just the start of the influx of MacBook Air rivals, but the specs on paper show it's a good start. While the Acer Aspire S3 has the lowest price so far, if you want the performance benefits of SSD or an 11-inch Ultrabook, the Zenbook UX21 and UX31 are available.
Follow Melanie Pinola (@melaniepinola) and Today@PCWorld on Twitter