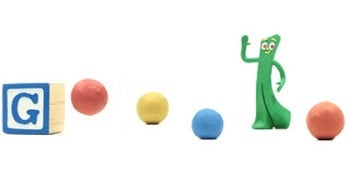 You might not recognize the name Art Clokey but the crowning achievement of the Claymation artist's career might ring a bell: Gumby. Clokey, who passed away last year, would have been 90 today. To celebrate that event, Google has made Gumby the focus of an animated doodle on the home page of its search engine.
The doodle displays a child's block with the letter G and five colored balls. When you click on the balls, they morph into Claymation figures. If you click on the green ball, for example, Gumby will appear. Click on the first ball, and you'll see Gumby's arch enemies, the Blockheads. The yellow ball transforms into one of Gumby's reptile friends, Prickle, and the blue ball, his girlfriend Tara. Click on the last ball, and you'll see Gumby's faithful equine companion Pokey.
Gumby has a special place in the hearts of Baby Boomers because he was a mainstay on the Howdy Doody Show in the fifties. Over the years, the character has been revived several times. He even became a parity subject of Eddie Murphy on Saturday Night Live in the eighties. In the nineties, he received the full cinema treatment with the theatrical release of Gumby the Movie.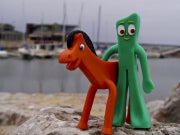 Born on Oct. 12, 1921 Clokey's birth name was Arthur C. Farrington. His father died when he was eight. It's said that the shape of Gumby's head is modeled on Clokey's birth father's who always had a large shock of hair swept to the right on his scalp.
Clokey's mother remarried and moved to California, where she and her new husband deserted the would-be animator. He lived in a half-way house until age 11, when he was adopted by Joseph W. Clokey. It was Clokey, a notable music teacher and composer, who introduced his adopted son to the arts.
After attending college in California, Clokey served in World War II conducting photo reconnaissance over North Africa and France. He settled in Hartford, Conn. after the war, where he met his wife, Ruth, while studying to become an Episcopal minister. The pair soon left Hartford to pursue their passion, filmmaking, in California.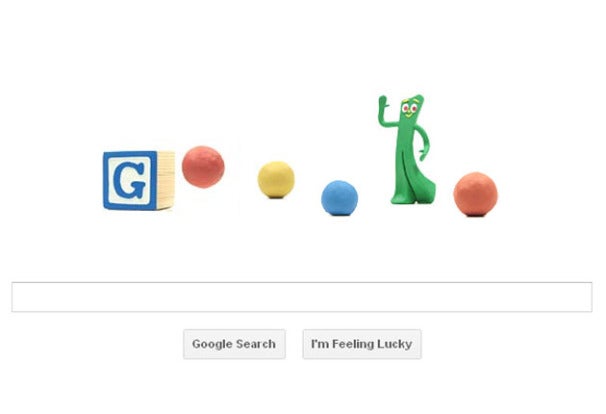 Working as a school teacher during the day, Clokey studied film at the University of Southern California at night. In 1953, he made an experimental film called Gumbasia, which caught the eye of a studio exec who opened the door for Clokey's career.
"The fact is that most people don't know his name, but everybody knows Gumby," friend and animator David Scheve told the L.A. Times when Clokey died in January 2010.
Google doodles have become very popular over the last few years and they've been used to celebrate all kinds of events, from civic milestones and birthdays to death anniversaries and important dates in history.
Interactive animated doodles like today's Gumby offering are a relatively recent invention, the first one appearing in May 2010 to celebrate the birthday of the video game Pac-Man.
Follow freelance technology writer John P. Mello Jr. and Today@PCWorld on Twitter.
Note: When you purchase something after clicking links in our articles, we may earn a small commission. Read our affiliate link policy for more details.