HTC has this funny tradition of releasing gigantic phones running Microsoft's mobile OS (the HTC Touch HD and the HD7 come to mind, both of which had 4.3-inch displays). Bigger is not necessarily better when it comes to phone displays, so I'm always skeptical of phones with displays larger than 4.3 inches.
True to its name, the HTC Titan has a large 4.7-inch display. A phone this large can be difficult to hold and sometimes, when the screens get bigger, text and picture sharpness is compromised. I got a chance to play with the HTC Titan at CTIA 2011 in San Diego and I was surprised–and impressed–with what I saw.
The HD7 and the Touch HD were awkward to hold; for somebody with slightly small hands, they were simply too wide. HTC has clearly made an effort since these phones to deliver both a larger display, but still making the phone comfortable to hold. They've succeeded with the Titan.
I was also impressed with how sharp images appeared on the Titan's Super LCD display–even with its large size. Text looked really good as well; it was sharp and easy to read with no pixilation whatsoever.
Powered by a single core 1.5 GHz processor, the Titan ran smoothly. I wasn't able to browse the Web as the phone wasn't connected, but all of the Windows Phone 7 (Mango) menus scrolled smoothly and apps launched quickly.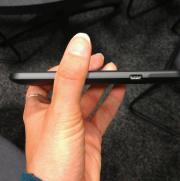 Perhaps the coolest features in the Titan are the software enhancements made to the 8-megapixel camera. You can natively take photos in panoramic mode (which stitches together multiple photos into one wide-screen shot). The easy-to-use interface shows you where to move the phone by displaying a horizon line. It also shows you when to move the phone. A Burst Shot mode lets you take multiple pictures within seconds.
Pricing and availability for the Titan have not been announced, but hopefully we'll see it hit shelves in time for the holidays.