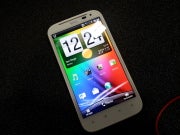 We loved the original HTC Sensation, so I jumped at the chance to get my hands on its bigger (badder) brother, the Sensation XL. This monster phone has a 4.7-inch WVGA display and is intended to be a device for major media fiends.
Like the HTC Flyer, the Sensation XL has a largely aluminum body with some white accents. Even though it was one of the larger phones I have ever seen, it didn't feel uncomfortable to hold in my hand. In fact, the phone looked bigger than it actually felt.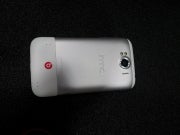 When I reviewed the Galaxy S II on T-Mobile, I was annoyed with the large screen because I kept accidentally hitting the capacitive buttons whenever I was trying to maneuver around the top half of the screen. On the Sensation XL this wasn't as big of a problem. I was able to get around the large screen quite easily, even though it was larger than the one on the T-Mobile Galaxy S II.
The Sensation XL is running Android 2.3 and has the Beats audio optimization software, which greatly enhances audio quality and can detect when you have Beats headphones plugged in for a much richer audio experience.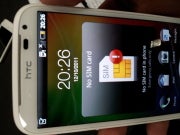 HTC demoed this by playing an Adele song without Beats enabled, then enabling the software and playing the same song again. The difference was like night and day: the song came out louder, crisper, and clearer with the Beats software enabled.
This is a phone you will want to use as your MP3 player when it comes out. The phone also ships with a pair of high quality Beats earbuds, which was a nice touch on HTC's part.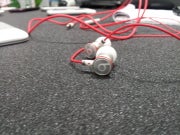 Recent HTC phones have had above average cameras, and 8-megapixel camera on the XL took some great photos. While not as good as the photos we got out of the MyTouch Slide 4G, I thought the XL took some great looking shots. Some of the camera software from the Slide 4G was carried over into the XL, but not all of it. While the camera was rather nice, HTC seemed to be more focused with audio capabilities when it came to this phone.
Something that struck me as odd was the fact that the Sensation XL was running on a Single-core 1.5 GHz Snapdragon processor. The phone was as zippy as any of the recently released dual-core phones, and my time spent playing Angry Birds Rio on the device went smoothly. I personally would have preferred a dual-core processor, but I have a feeling HTC stuck with a single-core in order to optimize battery life.
The phone is due out in November, but there are no pricing or carrier details as of yet. We'll keep you updated as we find out more about this giant of a phone.