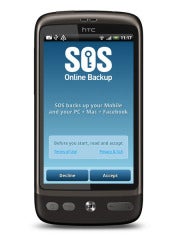 Cloud backup services have existed for years, and if you're just looking to back up the files on your computer, you have plenty of options to choose from. But more and more of the files we want backed up the most are on our mobile devices or online where traditional backup tools aren't helpful.
[Read: Choosing Cloud Backup for PCs]
A new service from SOS Online Backup promises to back up all of your online life–and not just the stuff on your computer. This new service, called SOS Social Backup can back up data from your Android and iOS gadgetry, along with your social network life.
We had a chance to play around with both of these services, and what we saw impressed us. The Facebook app from SOS takes only a few clicks to set up, and it does a good job of creating an automatic backup of everything you've ever posted to Facebook, from your Facebook photos to your wall posts.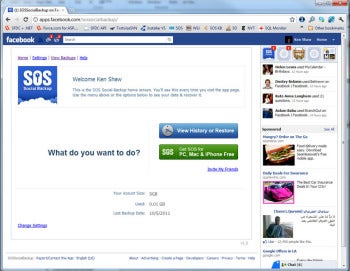 The mobile app has even more fun features: Not only can it automatically back up files stored on your phone, it also lets you access your backups through the SOS mobile app. You can even stream your music and video files from your SOS backup directly into the mobile app. We've seen this functionality in other cloud storage services such as Dropbox but it was a nice addition to find in SOS's mobile app.
[Read: Dropbox Makes Cloud Syncing Faster and More Selective]
Of course, these kinds of features will cost you. While SOS has a free trial with 5GB of storage to anyone who signs up for an account via its new Facebook or smartphone apps, you'll need to pony up if you want more space: $79.95 for a year of the service with 50GB of storage.