The number of wireless devices in the United States has surpassed the country's total population, according to a CTIA survey, meaning there's more than one wireless device per person.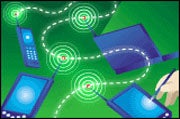 The CTIA semiannual survey on the wireless industry found that there are 327.6 million wireless devices in the country – a 9 percent increase from the 300.5 million devices in 2010.
According to the U.S. Census Bureau, there are 312.4 million people living in the United States – a number that rises to about 315 million if you count Puerto Rico, Guam, and the U.S. Virgin Islands.
Many people have multiple wireless devices, including personal and business phones, old phones that they've yet to cut the contract on, wireless cards and tablets, all of which explains surge in the number of wireless devices. I have two defunct-yet-still-contracted iPhones (if I wait just one month, my contract will be up — but dropping it now will cost me about $200).
The CTIA survey, which has been conducted semiannually since 1985, includes information from service providers. CTIA's survey is a voluntary survey, and because all systems do not respond that means most of the figures (such as the 327.6 million devices figure) are estimates.
The survey found that Americans are also using twice the amount of wireless network data — data traffic rose 111 percent in the same period, up to 341.2 petabytes.
Other interesting tidbits from the survey:
Text messages are up by 16 percent from last year, and a whopping 1.138 trillion messages have been sent in the past year.
People's average local monthly bill has been dropping steadily since 1988. The average local monthly bill is $47.23 (down from $47.47 in 2010), while the average local monthly bill in 1988 was $95.
Wireless companies are doing pretty well — their annual service revenue is up 6 percent from last year, and they pulled in an impressive $164.6 billion.