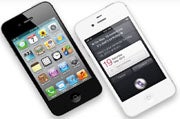 If you plan to line up all night at the Apple Store to be one of the first to get the iPhone 4S on Friday, or are hoping to snag one at a small Sprint outlet that no one knows about: We've got you covered.
Buying a new iPhone on launch day is always a difficult task, and the iPhone 4S promises to be the most popular iPhone yet. Apple recently said it has already sold one million iPhone 4S' in the first 24 hours the device was available for preorder. The iPhone 4 was the previous record holder, selling 600,000 in its first 24 hours.
With such a high demand for the new iPhone, some analysts are predicting iPhone 4S sales could reach as high as 3 million before Monday–Apple sold 1.7 million iPhone 4s within its first three launch days.
Competition for the iPhone 4S will be fierce on Friday, so I've got tips on where you should go, some pointers on choosing a carrier (now that you have three choices), and what you can do with your old device once you've snagged an iPhone 4S.
The iPhone 4S
The iPhone 4S may look the same as the iPhone 4, including the same 3.5-inch display with 960-by-640 resolution. But, under the hood, Apple's latest smartphone is packing a variety of different features including Apple's A5 dual-core processor, an 8-megapixel camera, 1080p video capture and the Siri voice-enabled personal assistant.
Siri lets you carry out a variety of hands free tasks just by talking to your phone, such as setting reminders, alarms, timers, calendar appointments, checking the weather, and sending texts. These new features are earning the iPhone 4S accolades from most critics.
Where to Go
Apple will start selling the iPhone 4S at all 245 Apple retail stores in the U.S. starting at 8 a.m. local time on Friday, October 14. The newest iPhone will also go on sale at AT&T, Sprint, and Verizon locations, as well as select Best Buy, Target, and Walmart stores.
If you opt to try and get the iPhone 4S at an Apple retail store, you may have to line up the night before the phone goes on sale just as people have for previous Apple smartphones. Keep in mind that this year, the iPhone is going on sale in the fall instead of the summer, so cold weather in your area might keep the overnight crowds away (but don't bet on it). If you're not interested in camping out, then your best bet might be a carrier store, but expect supplies at these locations to be very limited.
Related: Where to Snag an iPhone 4S on Friday
Check Your Carrier Eligibility
If you're unsure whether you qualify to get subsidized carrier pricing of $199 for the iPhone 4S, the best place to start is Apple's iPhone 4S retail page. Select your carrier under the heading "Check your eligibility" to see if you qualify.
Carrier Considerations
With the iPhone 4S, Apple is adding Sprint as a third choice for data and voice service. Verizon started selling the iPhone 4 earlier this year, ending AT&T's status as the exclusive U.S. iPhone carrier.
Deciding on which carrier to use will vary widely from region to region since some carriers can work very well in one part of the country and have very spotty service somewhere else. If you're uncertain which carrier to use in your area, you can usually get a pretty good sense of which carriers are worth considering by asking friends and colleagues what they use. You should also check out the coverage maps for AT&T, Sprint and Verizon.
If monthly carrier costs are your main concern, you'll want to visit the websites for the three carriers (AT&T, Sprint, Verizon) and study each carrier's different plans to see which provider has the best plan to suit you.
All three carriers are offering very different pricing options. Sprint, for example, is the only carrier offering unlimited data, while both AT&T and Verizon are offering tiered data plans ranging from as little as 200MB per month on AT&T to as much as 10GB per month on Verizon (12GB for mobile hotspot users).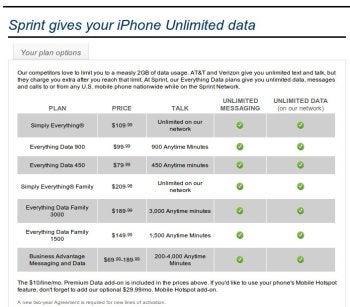 Trying to find the cheapest individual plans on each carrier, I found that Sprint had the lowest price at $80 per month. Sprint's plan included 450 anytime calling minutes and unlimited text messaging and data. AT&T's cheapest individual plan cost around $85 per month, giving you a similar amount of talk time, but you'll only get 200MB of data per month. Verizon had the most expensive basic plan at $90, but you get 2GB of data per month compared to AT&T's 200MB.
Sprint and Verizon also offer an advantage for international travelers that AT&T can't match. The new iPhone 4S is a world phone. This means that the device will work on both GSM and CDMA networks making the phone compatible with virtually any network in the world.
Typically, you have to purchase a data package from your home carrier before your trip overseas to cover your data and talk time in a foreign land. But CDMA carriers Sprint and Verizon plan on selling the iPhone 4S with the GSM micro-SIM card slot unlocked, according to PCWorld's sister publication Macworld.
That means when you travel to GSM-friendly zones such as Europe, you can purchase a local SIM card and pop it in to your phone to get service. Chances are you'll get cheaper service this way instead of arranging service through your home carrier. The downside is your phone will have to use a local phone number, and the service won't cover calls to your U.S. number.
AT&T is a GSM network, so it's unlikely the company would opt to leave its micro-SIM slot unlocked since it wants to keep your iPhone locked to AT&T's GSM service when you're at home in the U.S.
iPhone 4S, iPhone 4, or iPhone 3GS?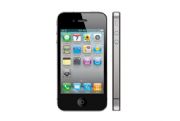 The iPhone 4S isn't your only choice on Friday. Sure, the new device has a lot of goodies packed into it, but the iPhone 4 has some great features too, including a front-facing camera, a 5MP rear-facing camera, and a retina display with 960-pixel by 640-pixel resolution at 326 pixels per inch.
Since the iPhone 4 isn't the new handset on the block anymore, you can get it for only $99 with a new two-year contract. Bargain hunters may also want to consider opting for the iPhone 3GS, which is being offered for free with a new contract on AT&T. All three devices will run iOS 5, but only the iPhone 4S will have Siri voice integration.
The other advantage of opting for the iPhone 4 or 3GS is you won't have to worry about rushing out late Thursday or first thing Friday morning to line up with all the prospective iPhone 4S shoppers.
Dump Your Old Device
If you want to dump your old device after picking up your new handset Friday, check out what kind of prices online buyback services are offering such as Gazelle and NextWorth. Target, one of NextWorth's retail partners, is offering a price lock guarantee for old iPhones in good working order (not necessarily in excellent or flawless condition).
[Read: Where to Sell Your Old iPhone or How to Pick One Up Cheaply]
The big box retailer is offering $200 for the 16GB and 32GB iPhone 4, $120 for the 32GB iPhone 3GS, $110 for the 16GB iPhone 3GS and $101 for the 8GB iPhone 3GS. All rebates are paid out as Target gift cards and the price-lock guarantee lasts until Saturday, October 22.
There are also a number or other ways to dump your old handset to get ready for the iPhone 4S.
Friday promises to be a big day for iPhone shoppers. If you're one of the brave ones lining up on Thursday night: Good luck out there.
Connect with Ian Paul (@ianpaul ) and Today@PCWorld on Twitter for the latest tech news and analysis.