Do you need an online haven for your digital images? You have a lot of sites to choose from, but not all of them are worth your time. Here we consider four of the best photo-sharing websites available today, and review their most outstanding features.
Flickr
With over 5 billion image uploads since its launch, Flickr is clearly popular with a lot of photographers as a place to back up and share photos. Flickr's free accounts let you add 300MB of photos each calendar month, and give you the choice of uploading your photos via email, your browser, a desktop app, or your mobile phone.
Flickr provides multiple ways to tag and organize your images. It includes privacy options so you can control exactly who gets to see your images, and it integrates very well with social media sites like Twitter and Facebook. A complete package at a great price, Flickr is a smart choice for backing up and sharing your digital images.
SmugMug
SmugMug isn't free, but it offers some great options that other sites don't. For example, you can choose from among more than 50 gallery templates to give your photo album a stylish and professional feel of its own. SmugMug also permits unlimited photo uploads, supports file sizes of up to 24MB, and doesn't affix ads anywhere on your site.
Sharing is another prominent feature: SmugMug works with with all of your favorite social network sites, and it includes some of the Web's most comprehensive privacy settings. You can create your own Flash slideshows for embedding in a blog or sharing elsewhere, and you can send HTML email messages with your images embedded in the message body. If you don't mind paying for a feature-rich photo sharing site, SmugMug is an excellent choice.
Picasa Web Albums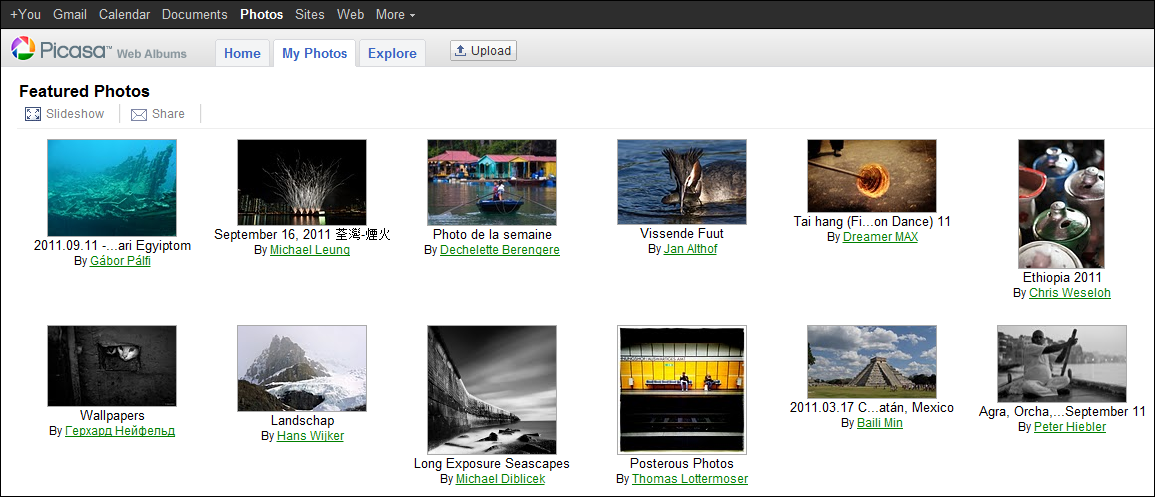 Google's online photo-sharing site is another popular destination for amateur photographers. It integrates seamlessly with other Google services and comes with a desktop client to help you edit, organize, and upload your images. It can sync your image folders with your Web albums so that anything you add offline gets added to your online album automatically.
Standard accounts come with only 1GB of online storage, but you can upgrade your Google account to 20GB for just $5 a year. Web albums may be public or private, and you have the option of geotagging your images so that years from now you'll know exactly where you took them. Picasa Web Albums isn't the most glamorous alternative on this list, but the site's simplicity and ease of use are hard to beat.
Photobucket

Photobucket is huge. Few photo-sharing sites have more photo and video uploads than Flickr, but Photobucket's popularity seems to know no limits. Its reputation is well established and users seem to appreciate it as a complete, easy-to-use photo-sharing service.
Like SmugMug, Photobucket offers an array of themes that you can use for your Web galleries, and the free accounts come with unlimited free space. You may edit photos online, comment on them, and share them via social networks. Photobucket even keeps a running view count on your individual photos, and it provides enough privacy options to ensure that your photos won't be visible to everyone unless you want them to be.
Whichever photo-sharing service you choose, consult our handy guide to professional photo composition to ensure that you'll shoot photographs worth sharing.