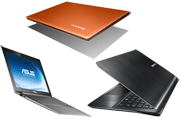 If you're considering picking up an Ultrabook, here's a reason you might possibly want to wait until the next wave of these ultra-thin and lightweight laptops land next year: Super-sharp "retina-quality" displays.
VR Zone reports that early next year, when Ultrabooks sporting Intel's next-generation Ivy Bridge processor arrive, we can expect to see their 13.3-inch and 15.6-inch displays with resolutions as high as 2560 pixels by 1440 pixels. In comparison, the Apple iPad 2's resolution is 1024 pixels by 768 pixels.
This graphic shown at the Intel Developer Forum this year suggests Intel is trying to mimic the iPhone's popular Retina display in offering a screen with such pixel density that the human eye can't distinguish individual pixels. In other words, Ultrabooks could get smartphone-quality screens.
Asus said this week that its 13.3-inch Asus Zenbook UX31 boasts a beautiful high-resolution display (1600 pixels by 900 pixels), which is higher than both the MacBook Air and competing Ultrabook Acer Aspire S3-951.
But if a super, super-high-resolution screen is what you want–and you're willing to pay whatever the price premium that will add on, which is unknown at this time–then you've got about a six-month wait for your Ultrabook to arrive.
Follow Melanie Pinola (@melaniepinola) and Today@PCWorld on Twitter