BlackBerry users around the world have been impacted this week with service outages. RIM has offered an explanation of the problem and apologized, but it's going to take more than a simple "We're sorry" for RIM to regain the faith of loyal customers.
RIM is already spiraling to its doom. With iOS 5 and the iPhone 4S launching this week, Windows Phone "Mango" rolling out, and Android "Ice Cream Sandwich" on the imminent horizon, there are plenty of very awesome alternatives out there.
RIM will never regain its once-lofty status, but there are some things it can do to bounce back from this outage and reverse its fortunes in the short term:
1. Compensation
For starters, RIM needs to compensate BlackBerry users around the world. RIM has explained that the outage was caused by a cascading failure stemming from a failed switch. Since RIM has identified the issue and can trace it back to its own network, it needs to accept responsibility and not expect its wireless provider partners to take the heat.
The real question is, "How much?" While the outage itself only lasted a few days, it will take more than a pro-rated kickback for two or three days of lost service. RIM needs to toss in a free month, or something more substantial to demonstrate to customers how truly sorry it is and how much the customers are valued.
2. Leadership
I think CEOs–like professional sports team coaches–take too much blame for a poor team effort, and that too much credit is given for CEO leadership when things are going well. That said, the two-headed strategy isn't working.
Ideally, two heads would be better than one, and the combined ideas and leadership of co-CEOs would yield benefits that a single CEO can't deliver. The reality is that it's not working out that way, and there's a reason virtually every other company in existence has just one CEO.
Too many chefs spoil the soup. RIM needs to choose a leader and either sink or swim based on the vision and leadership of a single CEO.
3. Innovation
RIM needs to do something with its phones. The traditional BlackBerry is an icon of smartphones and mobile messaging, but being iconic and remaining relevant are two different things.
What RIM can't do is try to "iPhone-ize" the BlackBerry. We already have the iPhone, and if customers want a knock-off iPhone without the Apple "walled garden" they can turn to Android.
Microsoft went back to the drawing board and created something innovative with Windows Phone 7. It delivers a solid mobile experience that is unique to Windows Phone devices rather than just mimicking iOS.
BlackBerry devices don't need to try and out-pizazz the iPhone, or include more bells and whistles than a Nexus Prime. There is only so much you can do with the concept of a mobile OS and user interface. RIM needs to just focus on delivering a quality experience that is distinct from the competition and provides a compelling case for choosing BlackBerry.
4. Focus
Stick to smartphones…at least for now. The BlackBerry PlayBook is a flop, and pouring more money into pretending like it will eventually succeed won't change that.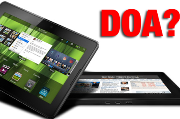 I think it's a mistake for any company to pigeonhole itself, so I don't fault RIM for trying. But, creating a tablet is just another me-too, too-little-too-late-for-too-much-money reaction to the competition out-innovating it.
RIM should be looking at the bigger picture of the value it brings to the market, and developing ways to raise the bar and deliver more value rather than thinking of itself as strictly a smartphone company, just not right now.
Get the train back on the tracks with the core products and services. Restore some respect and credibility to the BlackBerry brand. Once things have stabilized, then RIM can consider that bigger picture, but it should do so as a function of its own strengths, creativity, and innovation, and not just stumble about trying to copy what works for its rivals.
RIM is still a major force in mobile communications. Consumers, businesses, and government agencies around the world depend on BlackBerry. This is an opportunity for RIM to look in the mirror and get back in the game, or it could just be all the reason customers need to check out that new iPhone 4S.