Hundreds lined the streets of Tokyo on Friday to be the first in the world to get their hands on the iPhone 4S, temporarily crashing the registration servers at one Japanese mobile operator.
Mobile operator Softbank held a sidewalk countdown in front of its flagship store to mark the start of sales at 8 a.m. local time, blasting silver streamers into the air as the doors opened for business. Several hundred customers, many of whom had been waiting since early Thursday evening, lined up and patiently waited their turn inside.
Softbank, Japan's third-largest carrier, was temporarily overwhelmed by the demand, and in some locations across Japan was unable to process new contracts or phone upgrades until the system was fully restored at 11 a.m., with some shoppers stuck in long lines as the day grew warmer.
CEO and Chairman Masayoshi Son repeatedly apologized for the trouble through his Twitter account.
As with previous iPhone launches, it was a celebratory event, but the death of Apple co-founder Steve Jobs cast a shadow.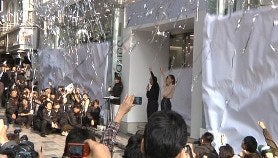 "This phone is more of a work of art by Steve Jobs than a product," Son told the dozens of reporters assembled outside the flagship store for the opening ceremony earlier in the day. When he last met Jobs in June, he said, Jobs had looked worn despite his normal enthusiasm.Fresh flowers were laid out in front of the Apple Store in Tokyo's hip Shibuya district.
As the lines lengthened at that store, employees handed out water and black umbrellas with the company logo to customers."There was some trouble at the store I went to, but they said they would iron it out today, and I'm still excited to get my phone," said Yuichiro Takahashi, a Tokyo resident getting his first iPhone.Friday's launch marks the first time in three years that Softbank will not have a monopoly on Apple devices on its network, as rival operator au is also offering the new iPhone.
Au is Japan's second largest carrier, but has failed to keep pace with No. 3 Softbank in terms of adding new customers. But the company has a reputation for a much stronger network, and has adjusted its pricing to compete directly with its upstart rival."I was actually going to switch to Softbank to get this, but when I heard au would offer it I was really happy, their service is much better," said local restaurant owner Hirotaka Yabuchi, clutching his new 4S.