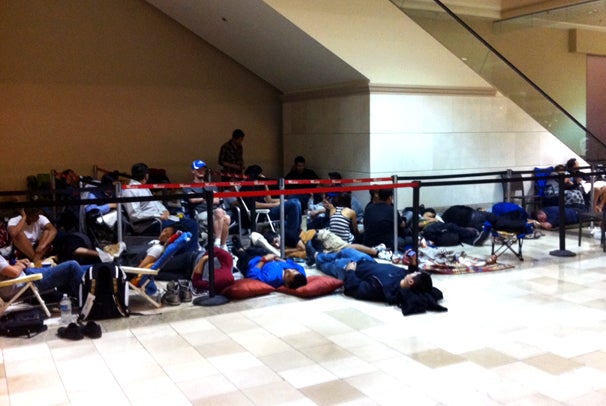 Not everyone pre-ordered their iPhone 4S–plenty of people are nabbing Apple's latest handset the old-fashioned way: by waiting in line.
Apple co-founder Steve Wozniak was the first Apple fan in line at theLos Gatos, Ca. Apple store on Thursday afternoon.
"The long wait begins," Wozniak tweeted Thursday as he checked into Foursquare using his current iPhone, "I'm first in line. The guy ahead was on the wrong side and he's pissed."
Obviously, Wozniak's waiting in line is only symbolic–he could easily get the handset with just a call to Apple, but he didn't. "I want to get mine along with the millions of fans," Wozniak told CNN, "I just want to be able to talk on my phone."
And there are millions of fans. Fans have been lining up all around the world for the iPhone 4S, which launches (and has already launched) in cities everywhere at8 a.m. local time.
[RELATED STORY: Apple iPhone 4S Launch Day: A Survival Guide]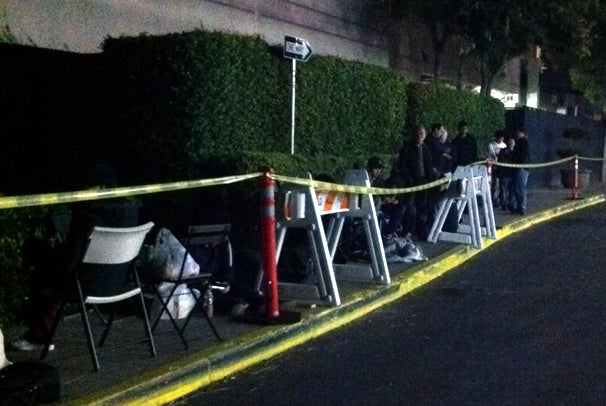 Even my local Apple store–the not-so-modest Westfield Valley Fair location–has a line winding outside. I headed on over at4 a.m.to see what the big deal was, and there were about a hundred people decked out with sleeping bags, camping chairs, and, of course, all manner of Apple devices (and some non-Apple devices–I spotted at least two Toshiba laptops). Plus, there were still people joining the line, even when I left the mall at4:30.
The first person in line was a super-dedicated fan, about to get his very first iPhone–nay, his very first smartphone. Twelve-year-oldWest Steinacker and his mother have been camping out since10:30 a.m. Thursday morning. West is even a forward-thinker–he knew he'd be up all night waiting for his first iPhone, so he arranged to do all of his morning schoolwork ahead of time so that he'll be able to sleep in and go to school late (with his new iPhone 4S, of course). The Steinacker family plans to buy three iPhones, one for West, one for his sister Kala, and one for Mom.
iPhone veteran Merril Sullivan has also been there since10:30 a.m.–this is his third iPhone (his current iPhone is the 3GS). He also owns an iPad. "It's just a quality product," Sullivan said, "I had my 3GS for two years and I never had to take it in, never had to change the battery, it's a nice color…but now it's time for an upgrade."
At the end of the line was software developer Thomas Aylott–who has owned every iPhone since the first iPhone's launch. This is, however, his first time standing in a product launch line. "Basically, it's the latest iPhone," Aylott said, "I must has [sic] it. It's as simple as that."
Nobody seems to be disappointed with the fact that the iPhone 4S isn't a huge upgrade from the iPhone 4. "I love the 4," Aylott said, "And I plan to pass it down to my wife. Eventually the world will be covered in used iPhones. Because some nerd is going to upgrade every year, and everyone else will upgrade every other year. Especially now that there's a free iPhone."
Aylott is especially excited about the camera, "The most exciting thing about the camera is that they focused on the time between the photos and the start-up time. Because I've got three little girls, three, seven, and nine, and they move…quickly."
Standing with Aylott at the end of the line was newly-converted iPhone fan Abhijit Govindaraju. Govindaraju currently has a BlackBerry, but he says it's time for an upgrade. Needless to say, this is also his first Apple product launch (though he was carrying an iPad to watch movies on).
Though the iPhone 4S is seeing big lines, they're not as big as the lines for the iPad or the iPad 2–at least, not in Valley Fair. One of the security guards, who has been hanging out with the Apple fans since about10 p.m., said the iPad 2 launch saw a lot more people, "probably because the iPad is still pretty new."
Apple store employees declined to comment.
So, who got an iPhone 4S today? Is it everything you dreamed of and more? Let me know in the comments!