Apple fans are lining up around the world to be among the first to get their hands on the iPhone 4S, the newest Apple smartphone, which launches Friday. The latest iPhone features Apple's A5 dual-core processor, an 8-megapixel camera, 1080p video capture, and the Siri voice-enabled personal assistant. The device also features the same 3.5-inch retina display with 960-by-640 resolution.
Analysts are predicting the iPhone 4S will be the best-selling iPhone yet, expecting sales to hit as high as 4 million by the end of the weekend. Some also suggest Blackberry's recent service outage may encourage some people to give up their keyboard-centric Blackberry devices for a shiny new iPhone 4S. And scammers are already hard at work hoping to fool a few iPhone 4S fans into purchasing their phony wares.
Here's what's going on:
Big Lines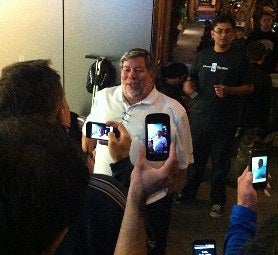 The iPhone 4S is already being sold in Australia, Japan, France, Germany, and the U.K., and the phone is just starting to roll out across the U.S. and Canada. Lineups around the world were huge once again with lines at Apple Stores going around the block in Australia, Japan, the U.K. and Europe.
Across the U.S., many iPhone fans are camping out at Apple Stores in New York, Houston, and San Francisco, but line lengths vary depending on where you are. French site Macplus.net captured a video from early last night of a small crowd camped out in San Franciso. Apple co-founder Steve Wozniak was the first in line at the Apple Store in Los Gatos, California, which appears to have a pretty healthy line. But iPhone fans lining up in front of AT&T stores in Houston and North Carolina are finding the crowds to be much lighter compared to Apple Stores.
Blackberry Users Jumping Ship?
Industry analysts are predicting that jilted Blackberry users may line up for the iPhone 4S this weekend in response to Blackberry maker Research in Motion's recent service outages. Bloomberg Businessweek talked to several analysts who all said this week's outages come at a terrible time for RIM as Apple gets set to launch the iPhone 4S Friday.
But whether Blackberry lovers are actually jumping ship is unclear. The Inquirer said it found only a few people in London lining up to switch from Blackberry to the new iPhone in response to the RIM outage.
Crash in Japan, What's to Come?
Japan's third-largest carrier Softbank was temporarily overwhelmed by demand for the iPhone 4S on Friday, according to IDG News. Server overloads are not uncommon during iPhone launches. In 2010, both Apple and AT&T had problems with their systems during the preorder window for the iPhone 4. Things were worse in 2009 when many shoppers experienced activation delays during the iPhone 3GS launch.
With three carriers serving U.S. iPhone shoppers starting Friday, it will be interesting to see if lines for the iPhone 4S cause problems similar to Japan's in the U.S. on Friday.
Sales predictions for the iPhone 4S launch keep going up. Apple recently revealed that iPhone 4S preorders hit one million during the first 24 hours of sales — the biggest preorder sale record for the iPhone yet. It didn't take long for analysts to start predicting that as many as 3 million handsets could be sold before Monday. Now, an analyst for the Yankee Group says iPhone 4S sales could reach as high as 4 million, according to Bloomberg.
Beware the Fakes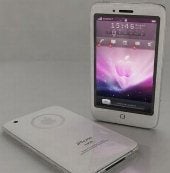 If you end up being one of the unlucky ones who line up but are unable to get an iPhone 4S make sure you know what an iPhone 4S looks like before turning to eBay to find a reseller.
EBay UK already has this obvious iPhone 4S fake on sale for about $350 U.S.
Connect with Ian Paul (@ianpaul) and Today@PCWorld on Twitter for the latest tech news and analysis.
iPhone 4S family
Price When Reviewed:
$599