Ever wonder how daily deal sites like Groupon and Living Social get such huge discounts? It might be because the non-sale price was inflated, making the discount look bigger by comparison.

Thumbtack.com looked into five deals on Groupon and five deals on LivingSocial for local services, such as home cleaning, tutoring, portrait photography, and wedding planning. For each deal, Thumbtack called the business in question and asked for its regular rate. In every instance on Groupon, and in three instances on LivingSocial, the quoted rate was lower than the regular price listed on those daily deal sites.
So for example, Groupon recently advertised a $150 home cleaning service for $49 — a 67 percent discount. But when calling the merchant directly, the regular quoted price was only $80.
The actual businesses, rather than the daily deal sites, may be to blame. In the comments section at Business Insider, one business owner admitted to inflating prices, arguing that it's the only way to make deals worthwhile. Another commenter, claiming to be a former Groupon sales rep, also said businesses tend to inflate their prices when reporting to the company.
Brendan Lewis, a LivingSocial spokesman, said the company does not inflate prices, as stipulated in its contracts with local businesses. "If it happens, it happens, but it certainly isn't a practice of LivingSocial," he said.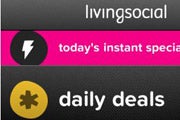 Now, keep in mind that Thumbtack has a dog in this fight. The Website lists local services (like cleaning and tutoring) and allows users to request bids from service professionals. Daily deal sites like Groupon and LivingSocial are a threat to Thumbtack's business, so the company has every reason to wage a PR battle against them. Last week, the company argued that its own bidding service is a better deal than Groupon and LivingSocial.
But it doesn't hurt to take daily deal sites' discounts with a grain of salt. Don't use the difference between regular and sale price as the only indicator of whether a deal is good. Do some research to figure out what that service normally costs, or call the business. Common sense applies.
Of course, some deals are more straightforward, like buy one get one free, or $60 of merchandise for $30. In those cases, buy away. (See also "Online Bargains: How to Use Groupon and Its Competitors.")
Follow Jared on Facebook and Twitter or Google+ as well as Today @ PCWorld for even more tech news and commentary.